This past week we've had workers in our house doing some construction. I sometimes feel self conscious about the conspicuous consumption involved in home improvement projects. I was raised in the "use it up, wear it out, make it do, or do without" school of thought. However I've increasingly become aware that the way we arrange our living spaces directly impacts how we live inside those spaces. If I am constantly surrounded by things that are falling apart, it contributes to me not making effort to take care of my surroundings. On the other hand, if my surroundings are beautiful to my eyes, I feel more at peace in my life. Unfortunately, beautiful is often the more expensive option, so it has been a long time coming. In fact, we're working to re-make our house a little bit at a time. This week we finally had the funds to fix up the stairs.
Here is what our front entry looked like before any work was done. The big blocky thing you see to the left was a coat closet. You may infer from the hooks with coats on them that this closet was filled with things which we rarely had a need to access. It was shove space. And it was taking up square footage at the entrance to our house.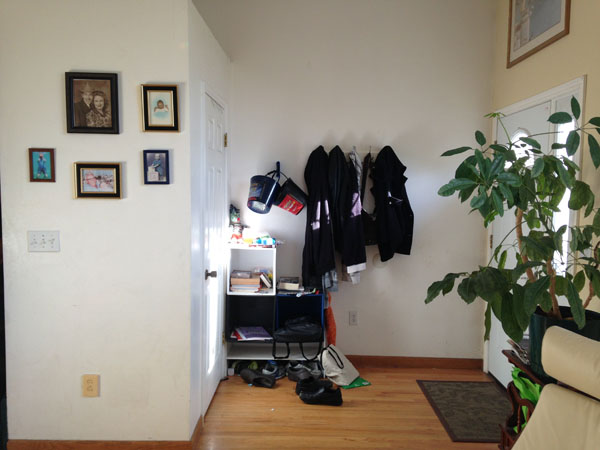 About eighteen months ago I decided that the closet needed to be removed. So I dismantled it. Unfortunately right after the dismantling we hit a financial tight patch and we ended up living with bare studs for the next year and a half.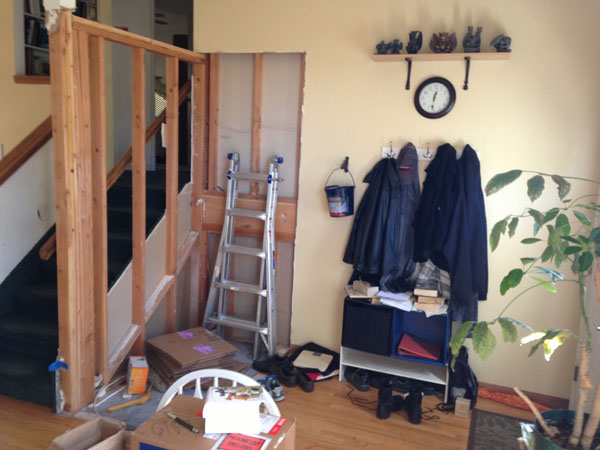 This is what the space looks like today.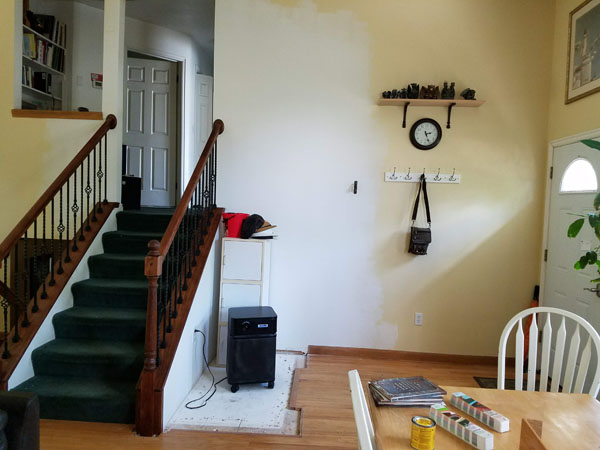 We have beautiful railing where once there was a big block of shove space. obviously there is still work to do. The wall needs paint, the flooring has to be replaced, and there will be additional fittings to make this front entry way a better place to put coats, backpacks and other items that are taken off when entering the house.
But I'm so glad that visitors to my house are no longer greeted with this view.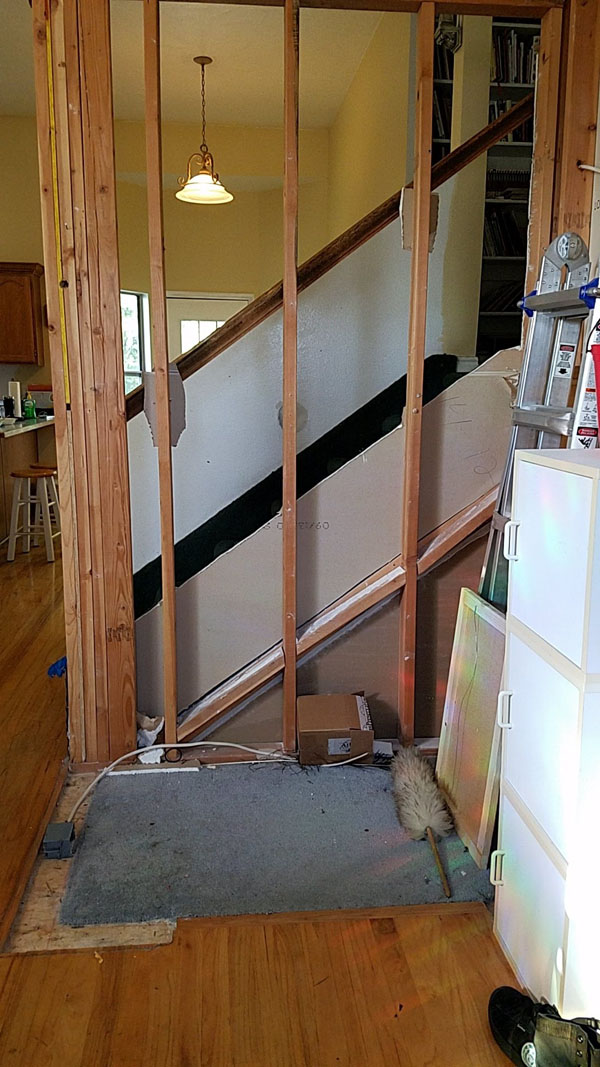 Instead they get to see this.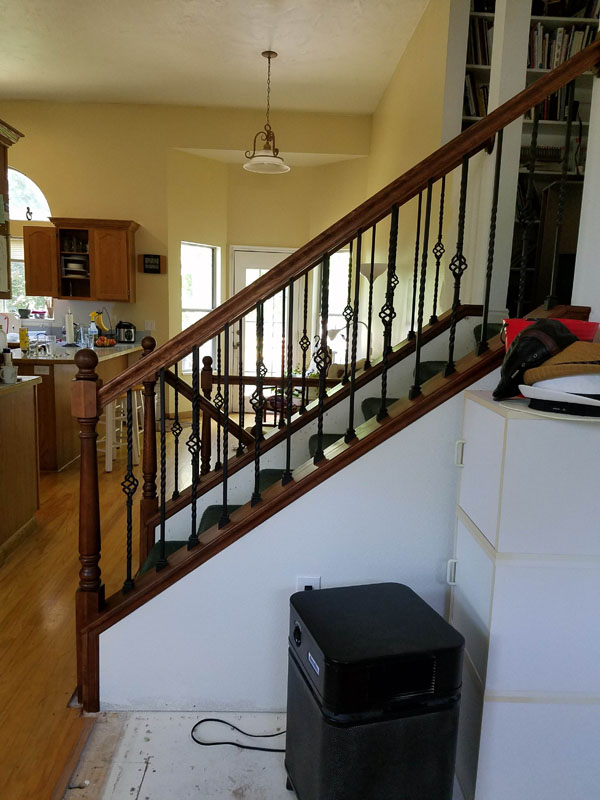 And when I'm sitting in my kitchen I don't see this anymore.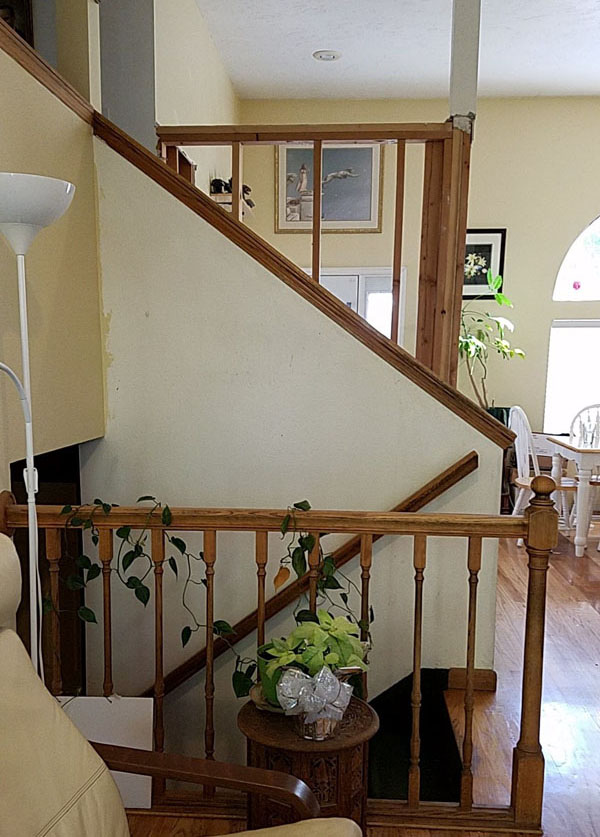 Instead I have a view of beautiful railing and the front door.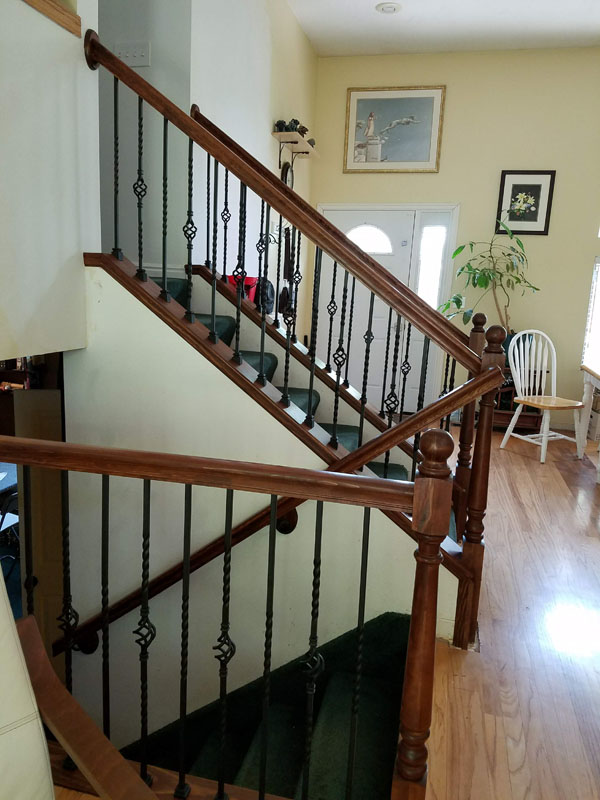 These railings are only the beginning. They define how we want our main floor to one day look. They are a promise to ourselves that bit by bit we will make our primary living area into one that makes us glad to enter instead of one that constantly frustrates us.