After weeks of being too busy to pay any attention to my garden spaces, this morning I did a tour of my outdoor plants to re-orient myself to the state of things and to the work that I want to get done. I've mostly ignored anything garden-y for two months. This means I've failed to deadhead and weed during the time when conditions are ideal for rampant weed growth. I always get garden neglectful in July and August. Some of it is the heat limiting how many hours per day I can be outdoors, but also the run up to Gen Con and recovery from it always seems to occupy July and August. I usually find myself feeling like a gardening failure in late August and early September. I have to remind myself that July and August show me which plants can thrive in my garden conditions without constant care.
The first stop on the garden tour is the daisies that were so lovely a couple months back. They are less lovely now. If I cut them back as soon as they finish blooming (late June), they sometimes put on a second show in September. Not going to get a second show of daisies this year. Instead I spent all of July thinking "I should really take some time to cut those back." Then I didn't do it.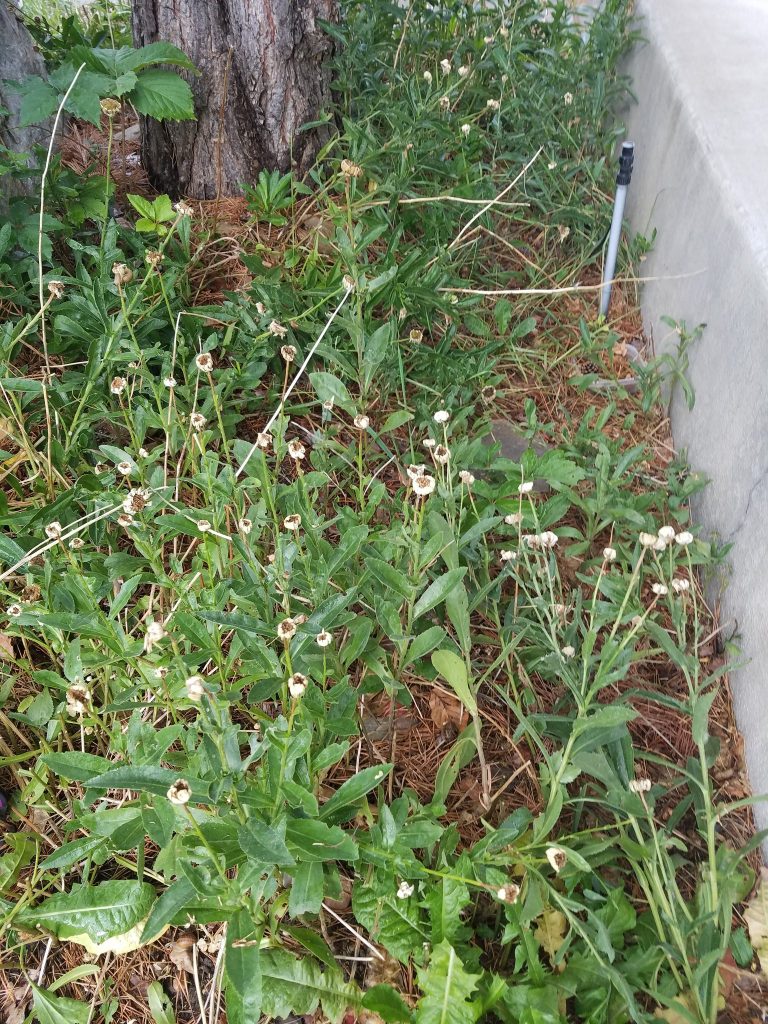 So I spent a couple of hours this morning chopping back all of the daisies and most of the lavender plants. I dropped the chopped lavender into a spot behind my house where I would be delighted if some of the seed too root. Now the flower bed looks less overgrown, but still messy.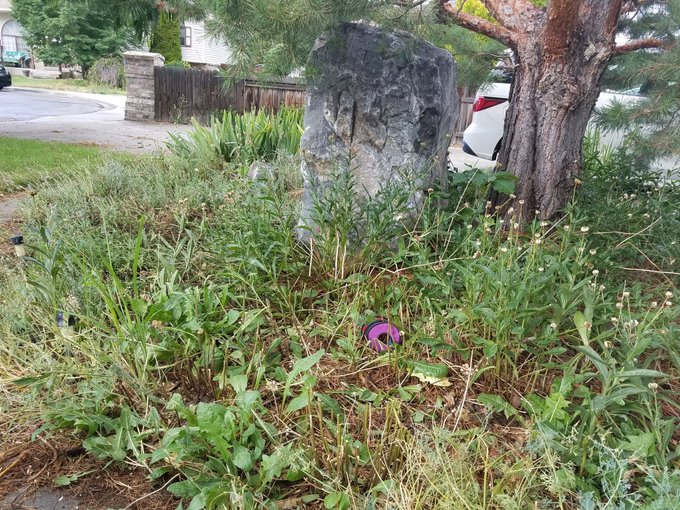 I also pulled out an assortment of four foot tall spiny weeds. Some of the weeds have pretty flowers up close.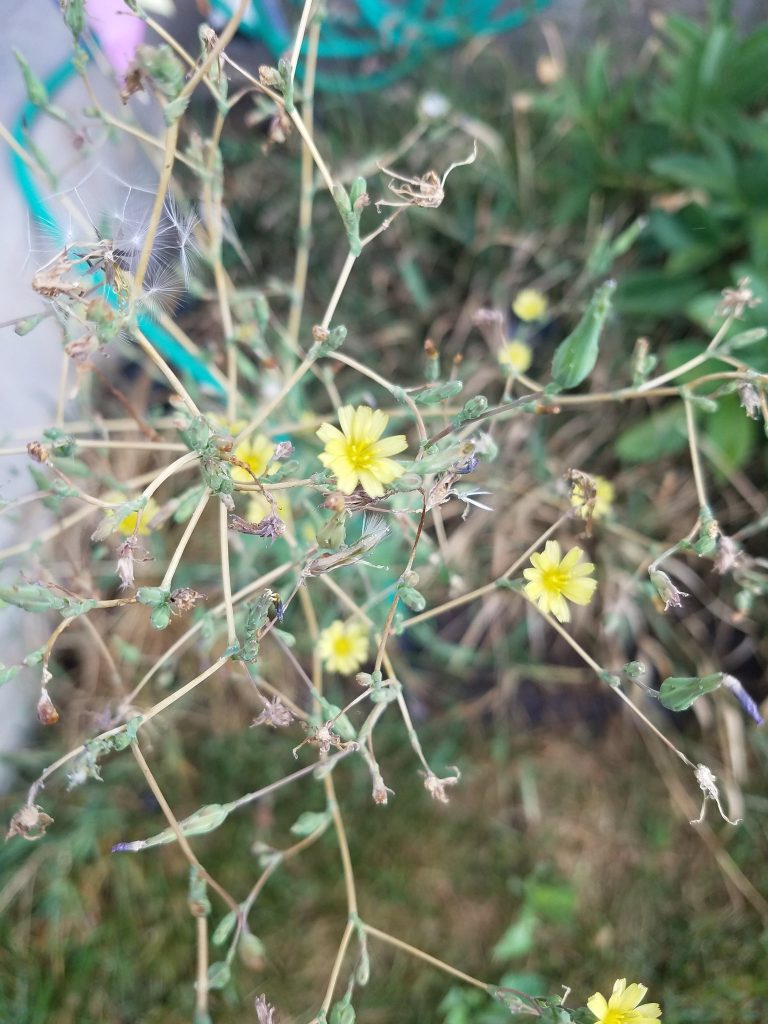 Too bad they grow 5 feet tall with itchy spines and are invasive. They're also unlikely to be native and I'd like to shift my landscaping toward Utah native plantings as much as I can. In fact while we were on our cross country road trip, I paid close attention to what sorts of plants grew wild along the road sides. I've purchased some seeds for Utah native plants that I'm going to attempt to get planted in the fall. I may also go for a hike up the canyon just to see what sorts of things grow there. I would like to have green things that thrive without constant attention.
Speaking of things that don't thrive without constant care, this is my lawn after one summer of not paying a company to throw chemicals all over it at regular intervals.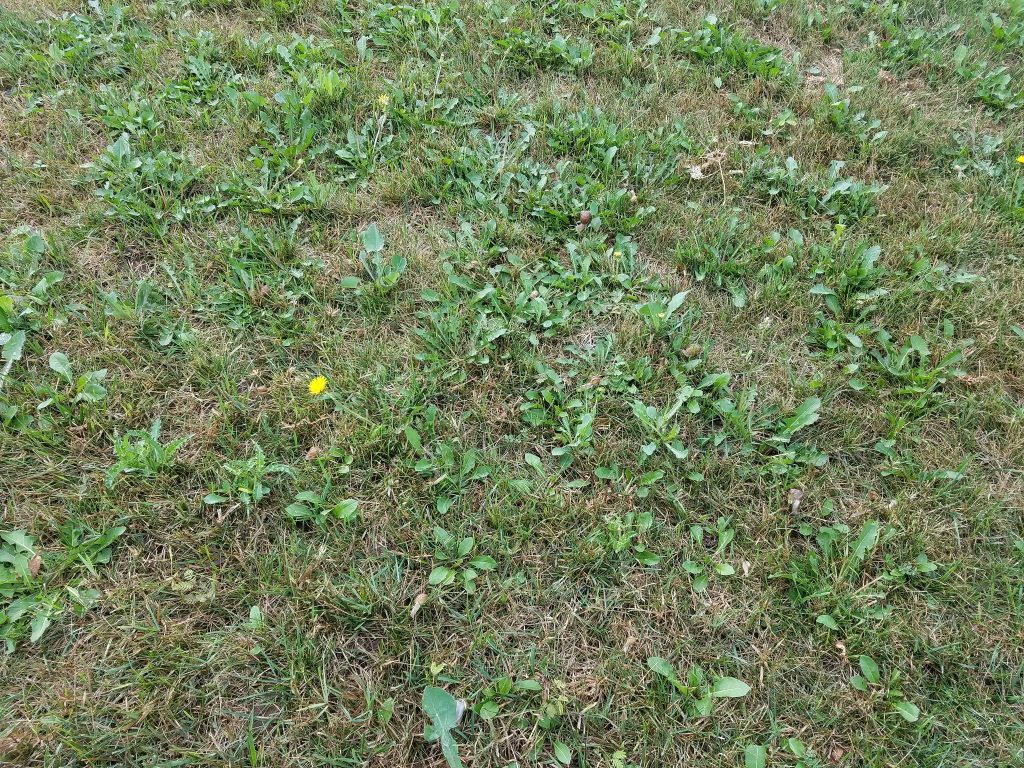 Lawns may be easy in other areas of the world, here they are expensive in money, labor, water, and chemicals. Mine was additionally stressed this year because I was trying to cut back on water usage. I knew that the lawn would deteriorate once I stopped paying $600 per year on lawn services, but having it happen so quickly only drives home the fact that Utah is just not good lawn country. We need better solutions.
Lawn behind my house has suffered as well. One guess which area used to be shaded by the walnut tree we had to remove last fall.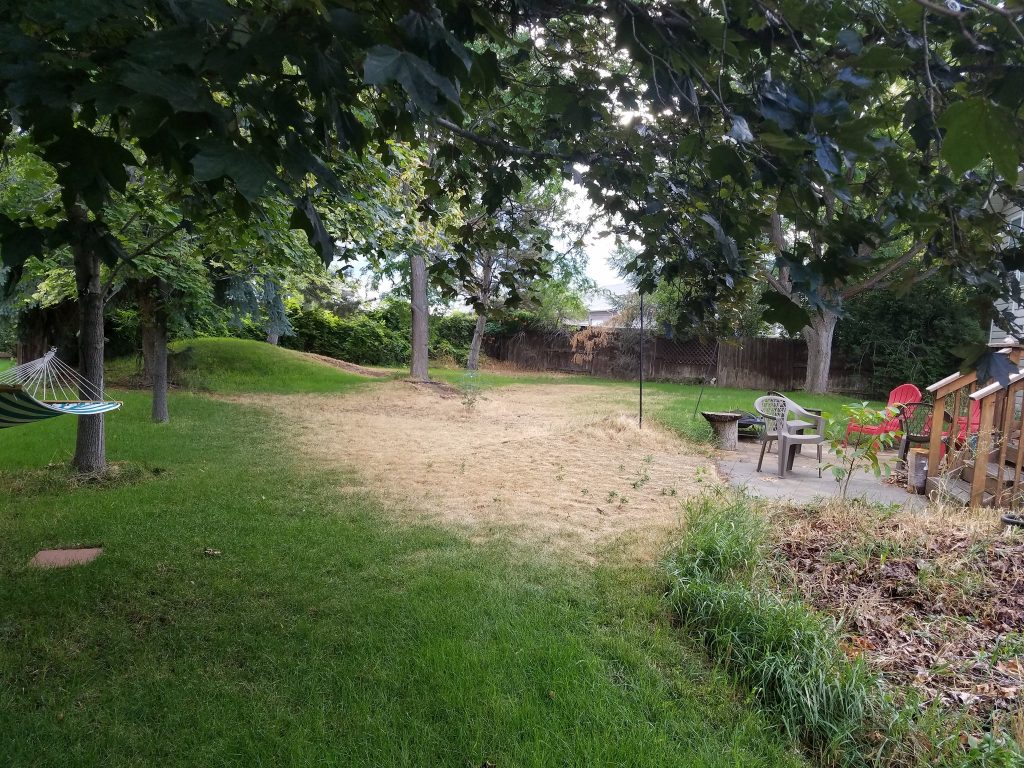 Keeping my trees alive and healthy is a high priority. The shade makes a world of difference in the experience of my garden spaces. In an effort to try to encourage clover to overgrow the lawn, I scattered clover seed in June. So far I have one clover plant.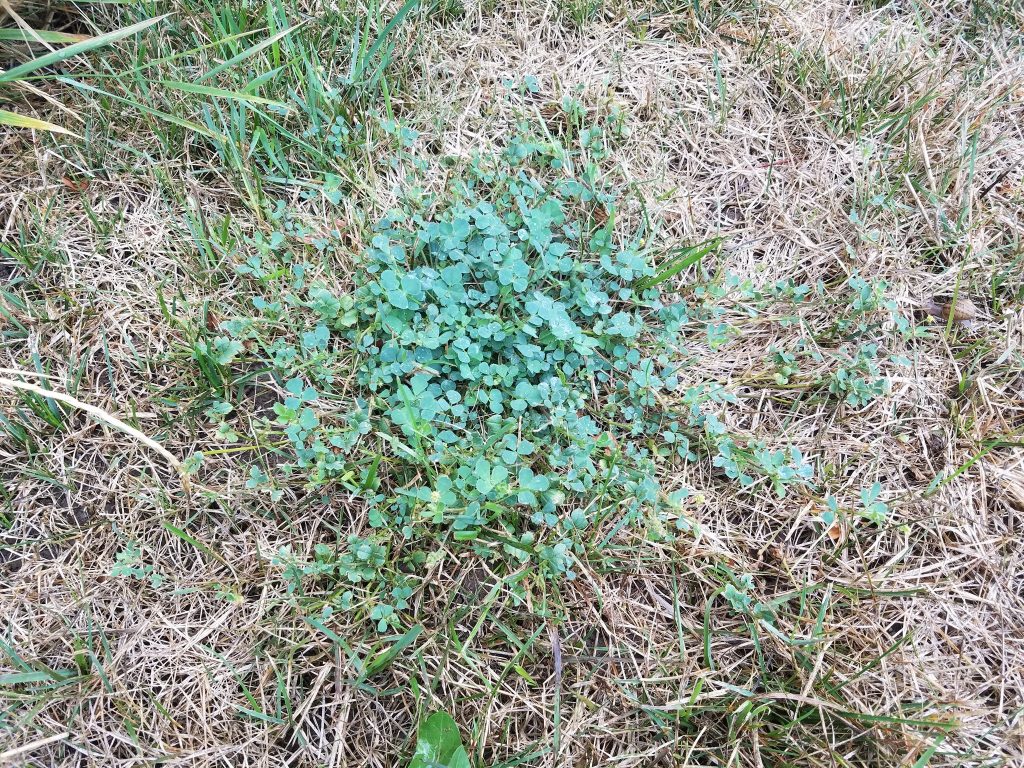 I'll buy more seed and try again in the fall when cooler, wetter weather might give the seeds a better chance at sprouting. For a brief moment I thought about maybe letting bindweed grow across my lawn spaces.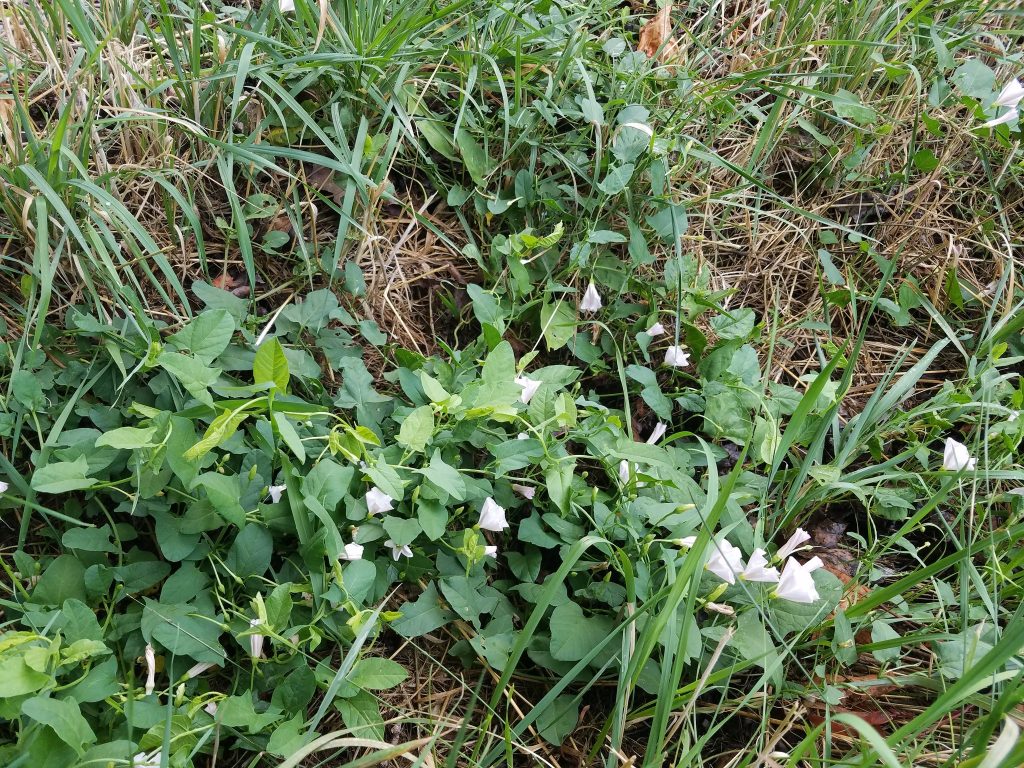 It is incredibly drought hardy, stays green in August, makes pretty white flowers, and would be soft to walk on. Then I remember that bindweed is a foreign invasive plant that will do its best to kill every other plant that exists anywhere near it. And probably succeed.
Speaking of plants where I don't want them, this is not a good place for a trio of mimosa trees. Got to pull those out.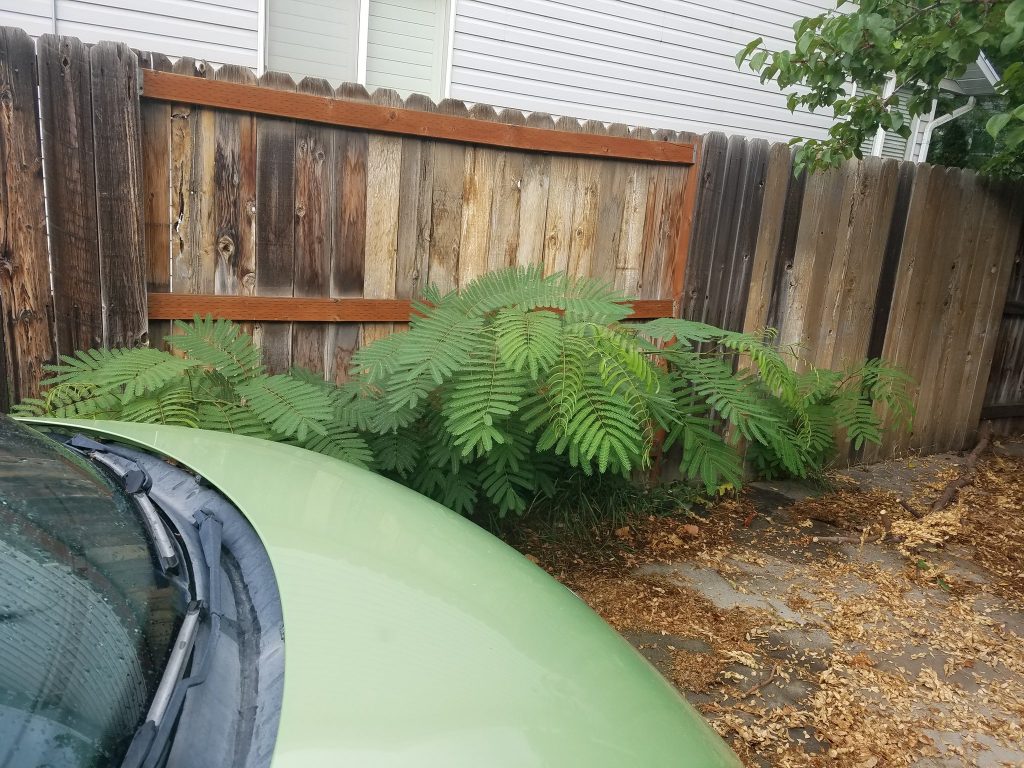 This is also not a good place for a mimosa tree.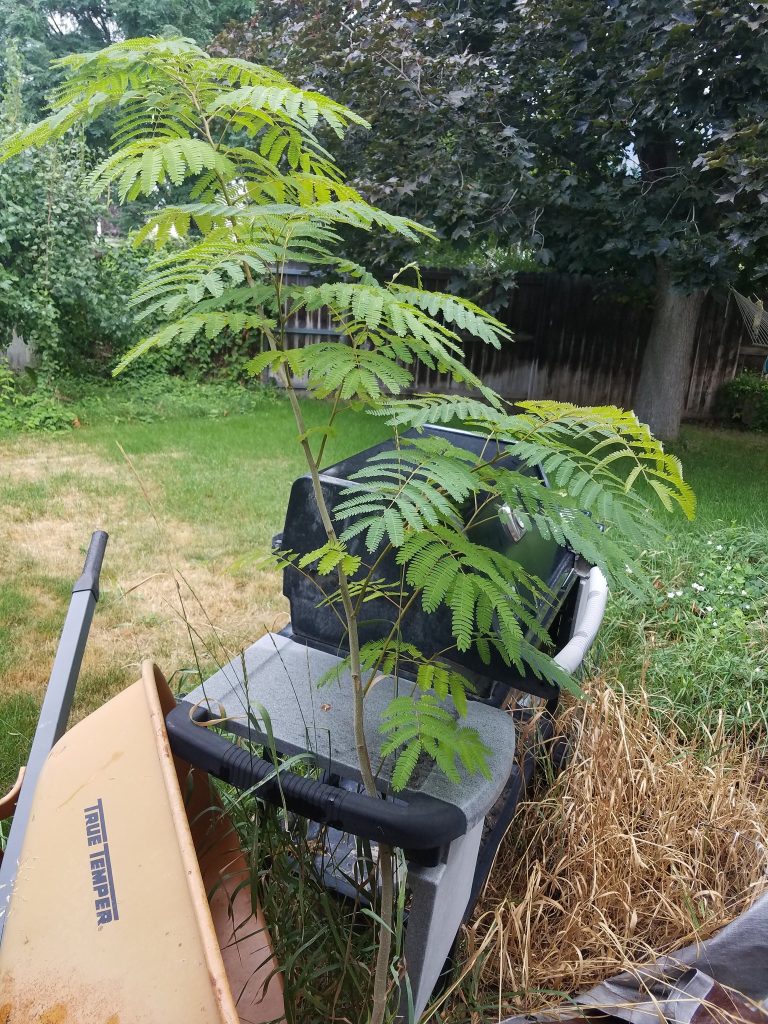 In fact, I've been meaning to get that mimosa tree away from the grill for a couple of years now, and I keep doing other things instead. These volunteer trees are merely following the example of their parent tree, who was itself a volunteer that I decided to replant and nurture in a spot where I wanted it. Now it is gorgeous.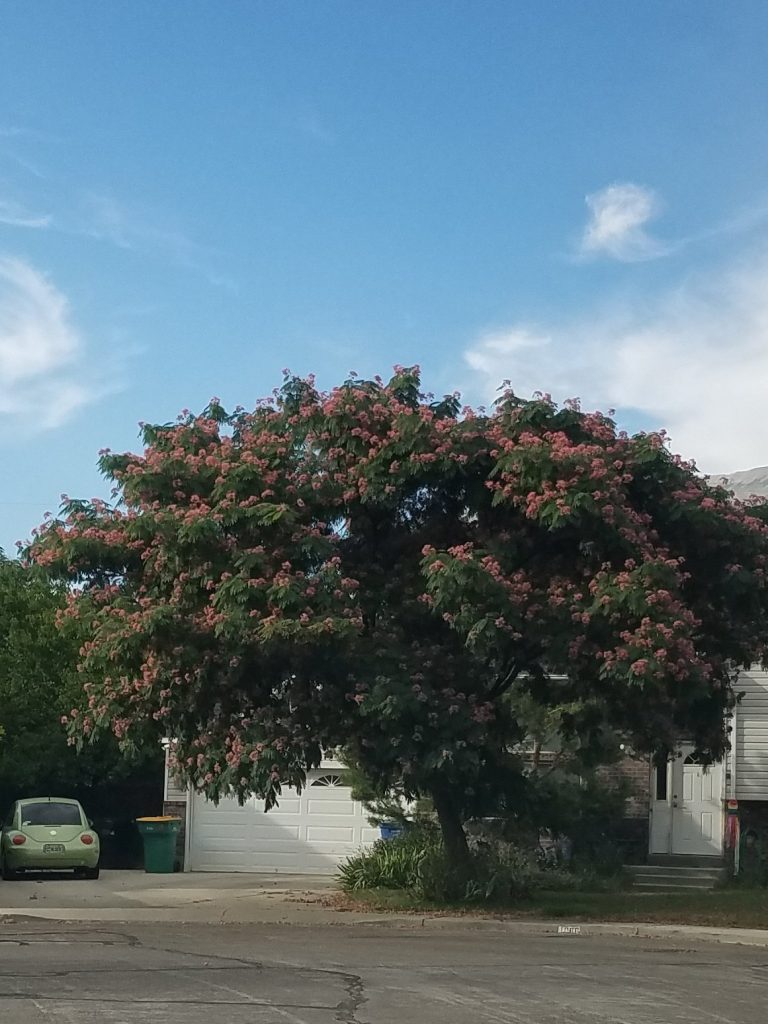 Every single one of those flowers will put out a seed pod with 5-10 seeds in it. Those pods scatter themselves everywhere across my yard. Which is why the garden bed project I was working on is now completely covered with mimosa seedlings. All of which want to be thirty foot tall trees.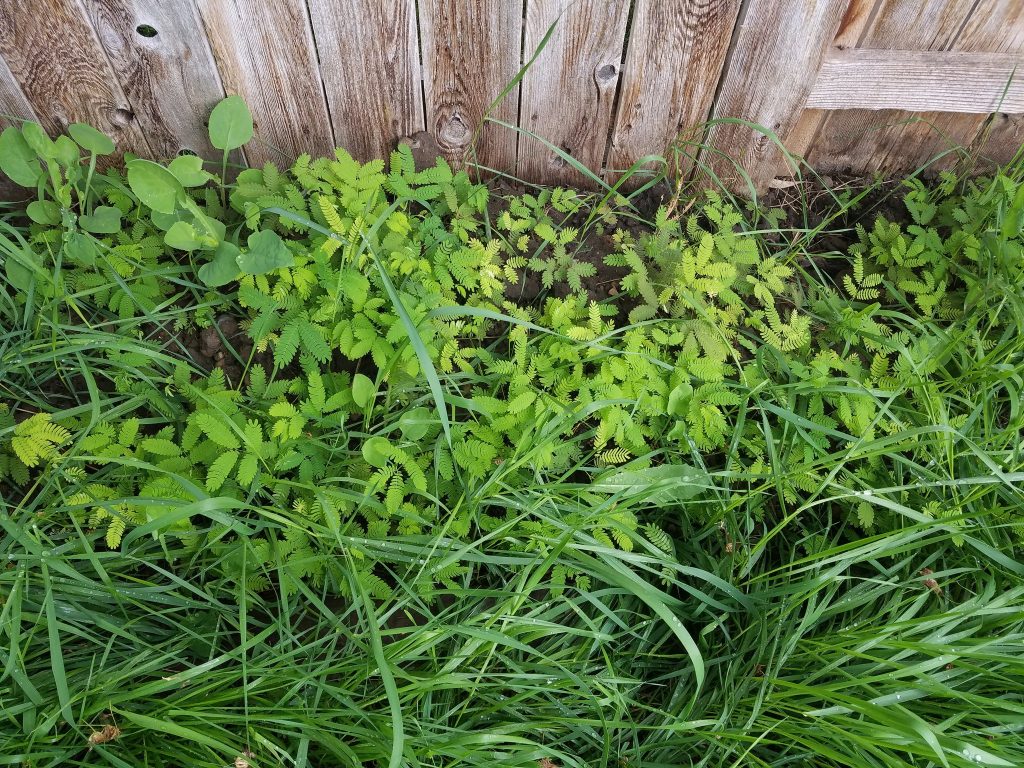 After taking this photo I pulled out most of these seedlings because I have other plans for that garden bed. The light rain turned into real rain, so I stopped gardening for the day after that. Gardening is mostly brown and weedy right now. But tending garden is often about problems, drought, and weeds.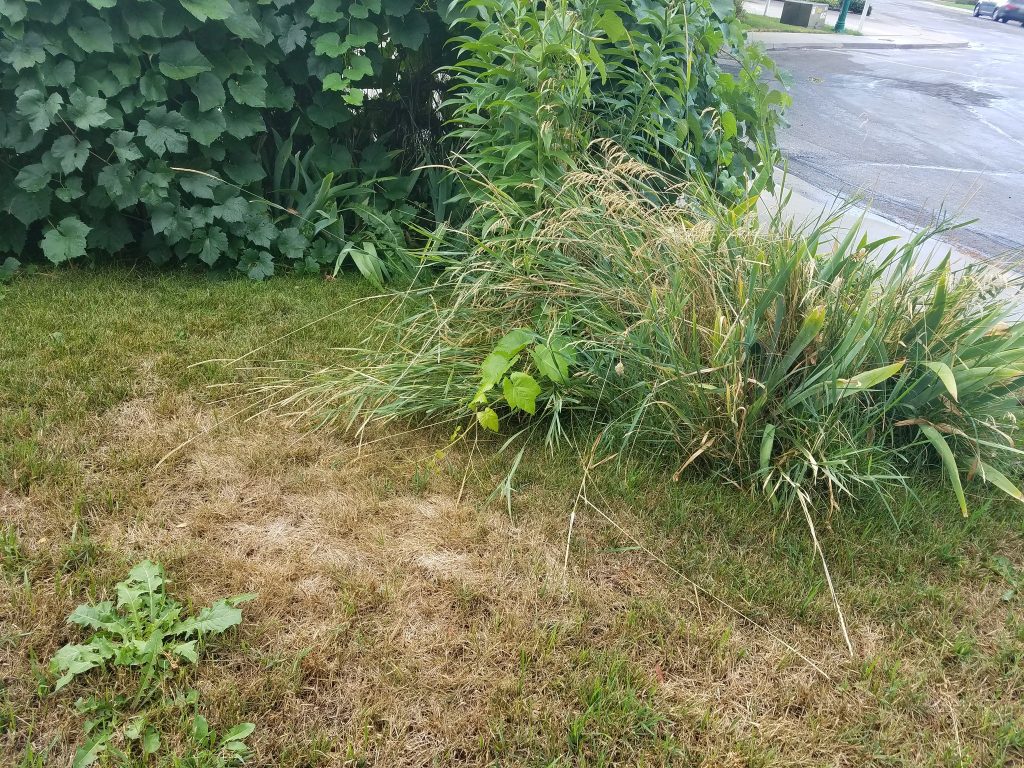 At least I was able to fill up my green waste bin. Ideally I do enough gardening each week to completely fill it. In reality it sat empty for more than a month because I wasn't gardening at all.
I'll end this garden tour with the one thing that is currently blooming, this trumpet vine.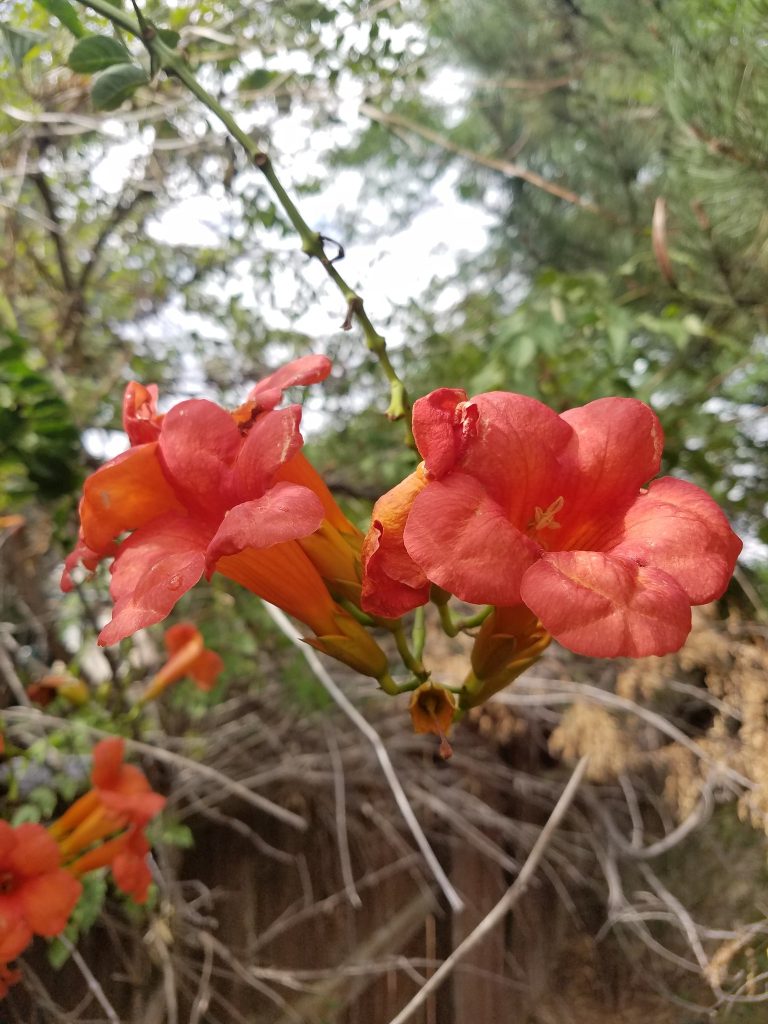 Years ago when we first bought the house, my neighbor asked me if the vine was ours, I said no, it wasn't growing on our side. We discovered that the vine had somehow sprouted in the gap between the two sides of a double-sided fence we shared. It has been thriving there for 20 years now with no attention from any people. I find that deeply encouraging. Despite the climate change which requires my landscaping to change, if I can find the right plants, they will thrive and my garden will still be beautiful.
Also, Lurk says hello.