After a week of near constant urgency, I've finally landed in an open space. It is the open space that all of my urgent preparations were designed to create. I spent most of last week preparing to leave for this conference trip, worrying that some last minute Covid disaster would prevent my going, and also trying to set things up for a smooth return. Then when I got to Houston, all my days were occupied with the organizational tasks of helping shepherd nearly two hundred people from a hotel onto buses then onto a cruise ship where we immediately had to run an orientation session and multiple classes. It was all joyful, but busy.
Today is the first day in a port. No classes are planned. I didn't book any excursions. It is just me with hours available. I just cleared the small admin tasks that chase after me via email. I finally have a moment to pause and decide exactly what I want to spend time on next. And I get to do it while looking at this view: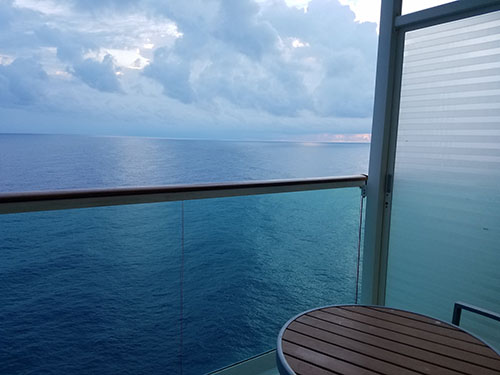 The next three days are as empty as this one. I'm interested to see what emerges in the space.