It has been more than a year since my last Long Slow Remodel update. You can click that link to see all the older posts. This one is big. We finally demolished the wall between the kitchen and the front room.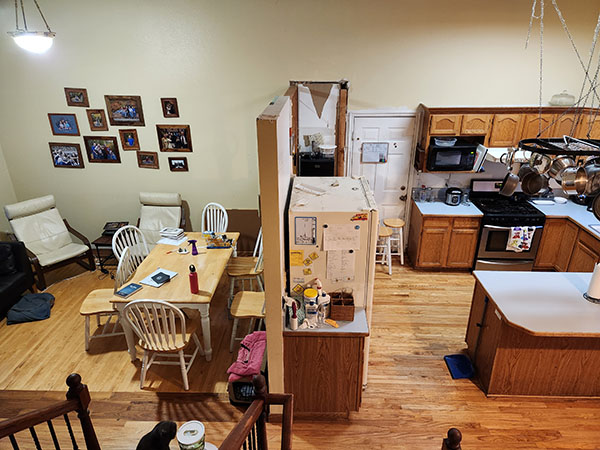 After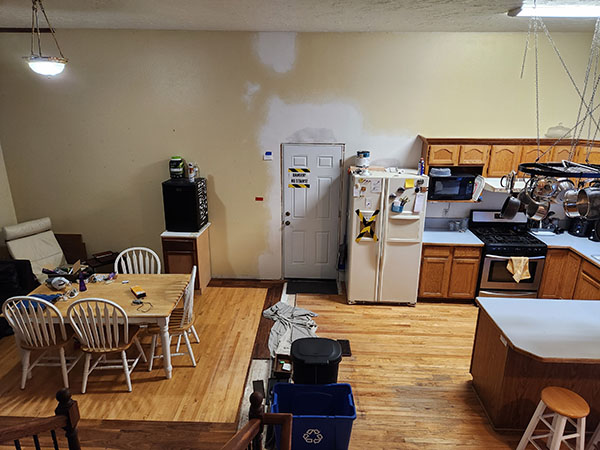 Comparison of the two pictures will show that in addition to removing the wall, we've re-located the door to the garage making space for the fridge on the kitchen side of the door. Eventually that peninsula counter will be removed and replaced with an island counter. All the flooring will be replaced as well. We're sad to lose the birch and walnut in the front room, but we'll be salvaging it so that it can be re-used elsewhere. I comfort myself with my plans to do decorative woodworking around the windows and the fact that I'll be hand finishing all the wooden cabinets we'll install.
Next week our hired guy will come back and finish re-wiring light switches. He's also going to solve the problem where that garage door doesn't have stairs. Right now we've got a step ladder set up in the garage to let us get out there without falling.
I'm hoping that in a few weeks I'll have additional progress pictures to show with the new fridge, crown molding finished, and everything ready for the next stage, which is deciding what cabinets to buy to replace the existing cabinet configuration. I'm just happy to see progress. I'm also observing how this change in our living space is already creating behavioral changes that are making us more social with each other. It is good progress.