On Saturday I accompanied my daughter and her fiance as they went shopping for a wedding dress. From the moment we walked in we felt the weight of expectation. We were greeted at the door and assigned an appointment with a stylist who could be with us in just a few minutes. The store was full of women prepared to pamper and flatter because surely every woman wants to feel like a princess when buying a wedding dress. We were surrounded with racks of sparkling, flowing white. And somehow they all had a sameness to them which seemed completely unappealing. After a few minutes we were convinced that we weren't going to find anything and we were making contingency plans involving going to a vintage clothing store, ordering off the internet, or perhaps even sewing.
Then the stylist showed up and listened to my daughter's concerns. To the fact that she didn't want anything sparkly or scratchy. She knew that having dress that rustled as she moved would grate on her nerves. She needed something that she could wear comfortably for hours at a time while having to mix and mingle with crowds of well wishers. A dress that was lovely, but designed for wearing not for flashy display. The stylist listened and helped her pick three dresses to try on. We were then led to an area with dozens of mirrors, dressing rooms on a raised platform, and a ring of chairs surrounding it. It was an area designed to put the bride on display. Fortunately we'd walked in during a quiet time, so we didn't have to deal with other brides and their entourages. It was just us and a stylist asking "So does this dress make you feel like a bride?" while my daughter stared at her in disbelief and said "I have no idea what that feels like."
Several other stylists stopped by since they didn't have clients at the moment. They all kept asking "do you think this is The Dress?" and you could hear the capital letters on The Dress. As if we were on a quest to find the one true dress. Which seems like a lot of emotional weight to put on some clothing. We even spotted a sign which was obviously designed for women to hold up while taking Instagram photos.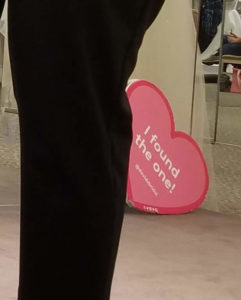 And yet despite all the interest and expectation, the stylist was very good at her job. Once she realized that my daughter was more interested in a dress she could wear while running from a zombie apocalypse should there happen to be one mid-wedding than a dress which made her feel like a princess, the stylist changed which questions she was asking. (The moment of complete bafflement on the stylists faces as we were making running-from-zombie-apocalypse jokes was sort of priceless.) We were fortunate and surprised when the second dress turned out to fit all my daughter's needs while simultaneously being lovely. The last act of the stylist was to have my daughter ring a bell to indicate that she'd found The Dress. I think the tradition is to ring the bell loudly so that everyone in the store could cheer. Fortunately the store was pretty much empty and the bell can be rung quietly too.
We were handed off to a seamstress to talk about alterations, she was much more practically focused and she was also geeky enough to laugh at zombie apocalypse jokes. My daughter has another fitting in three weeks and we'll pick up the completed dress a comfortable month before the wedding day. So we have another task complete and we can move on to the next one.