GenCon begins this Thursday, but my GenCon week has already begun. I've been prepping and packing since late last week. Today I'll board a plane so that on Wednesday I can help set up our booth. We're booth 1343. Here's a handy map to help you find us.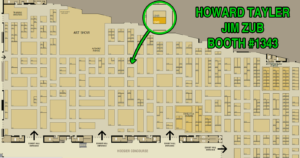 If you are at GenCon, I hope you do take some time to stop by. One of the things I love about GenCon is that we have a fantastic booth crew. I seriously do not know how we would run this show without them. Because they're amazing, I'm able to go and spend time with the GenCon Writer's Symposium instead of being pinned to the booth.
The symposium has put me on some events and I'm excited about them. I believe the symposium space is all located inside the Westin Hotel. You can see the full schedule and info at http://www.genconwriters.com/
Thurs 10am The Business of Self Publishing. Location: Cabinet (which I assume is a conference room named cabinet rather than an actual cupboard.)
Friday 4pm Writing Author Bios. Location: Congress 1 (Again, pretty sure this is a conference room)
Saturday 5pm Structuring Life to Support Creativity. Location: Congress 1
This is a solo presentation about which I am excited and nervous.
Saturday 6pm Breaking Through Writer's Block. Location: Congress 1
Another solo presentation right after the first one.
On those solo presentations, I'm torn between hoping that I won't be speaking to an empty room and fear that the room will be dauntingly full of people who expect me to say articulate and useful things. Fortunately both presentations are ones that I've given before and they were well received. Some of my time on the flight to Indianapolis will be me refreshing and updating my notes.
This year's GenCon will feature nine Planet Mercenary Demo games. Much of my work in the past couple of days has been to make sure our marvelous GMs have the info and tools necessary to run the games. And here is where I must sing the praises of our book designer Mike Brodu. He made beautiful character sheets for us.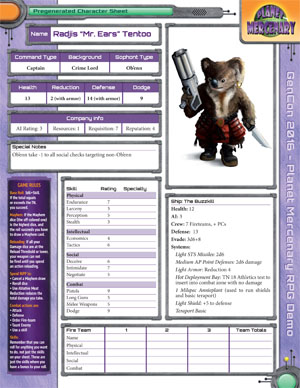 The games will be run at 9am, 1pm, and 6pm on Thursday, Friday, Saturday. They'll all be located in the JW Marriott room 202. You're welcome to wander by and see the fun. Or you can stop by the booth and come get one of the spare character sheets. We printed up extra and there is a space on the back where Howard will draw you a sketch. The sheets are labeled GenCon 2016, so they're collectible. I'm certain we'll run games again next year, but the sheets will be different from these.
Another reason to come by the booth is that we have lots of fun things to look at and buy. Force Multiplication will be there with the bonus story that I wrote. We'll have copies of Hold on to Your Horses and Strength of Wild Horses. Additionally, I've packed some of Keliana Tayler's limited edition prints into my bag. They're worth seeing.
As always, we'll be sharing our booth with Jim Zub. If you haven't heard of SkullKickers or Wayward, you definitely need to stop by and take a look. Jim's work is fun to read. My kids have been asking for the next installment of Wayward ever since I brought home the first treasury. While you're wandering the dealer's hall, stop by the Crafty Games booth. That is the convention home for Patrick Kapera who is our editor for Planet Mercenary. His work is amazing and they've got a new Mistborn game out which is based on the work of Brandon Sanderson.
It is going to be a very busy week. If you're not at GenCon, but want to follow along, I recommend checking my twitter feed @SandraTayler or Howard's twitter feed @HowardTayler We try to tweet as we can during the convention. It is possible that I'll blog as well, but often I've used up all my brain by the time I can sit down to write words.
And now I must go do all the last minute things to prepare.