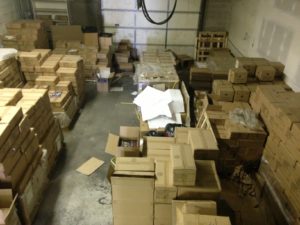 I showed you this photo the other day. It is how the warehouse looked before we put in hours of work today. Here is what it looked like after: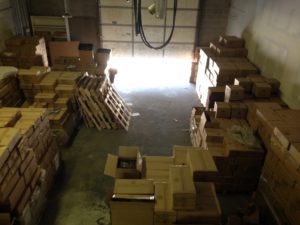 It is a little hard to see, but from the floor the difference is significant. I now have space for up to ten pallets of books. Or I will once I haul off that stack of old pallets. With the shifting done, we got to work bagging components: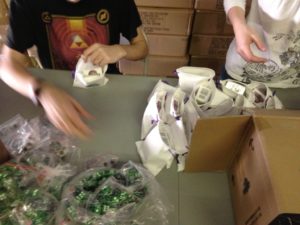 One of the secrets to an efficient shipping is to bundle things in advance. Every single order at the Company Commander and Commodore levels get a little white bag containing 4 pins, 1 coin, 1 set of dice, and 1 deck of cards. They also get a padded envelope containing their Seventy Maxims book and Game chief screen. So when time comes to box orders, instead of needing to grab ten different things for each package, we only have to grab three: book, padded envelope, little white bag. Additionally, the bundling also provides some useful padding making it less likely that things will get damaged in transit. Today we assembled almost 800 little bags. We need to assemble 1200 more exactly like these. Then we'll assemble a pile of bags for the backers who included RiPP tokens in their order. The RiPP tokens fit into the little bag too. The bag itself is a bonus that we didn't tell backers they are getting. It is a small thank you from us for supporting the project and being patient while we got everything done.
Lots of work still remains. I've only got a few weeks until the books arrive.