We're running a Kickstarter and it has only four more days to run.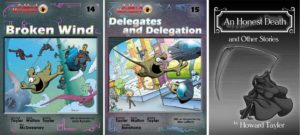 This means we've been pushing on social media for the last three weeks and I'm starting to feel like a broken record. I do my best to be interesting and to vary the information in my streams, but the core fact is that if we don't get the word out, the Kickstarter won't meet the goals we need it to meet. As of this morning there are three stretch goals left and we'd like to hit all of them. There are things we'd really like the chance to create, but we don't get to unless we hit the necessary stretch goals.
So I'm on social media being excited about my projects. And I'm trying to advocate for people to go vote in tomorrow's mid term elections. And I'm trying to make sure that my social media presence is a net gain for people who read things from me. I always want to give more than I ask. Balancing all of that for every online place that I frequent can get tricky.
Friday at 4pm, the Kickstarter closes and I can step back from all of it for awhile. Until then: We have a Kickstarter. It has Schlock books and a short story collection. If we hit a stretch goal I'll get to make the Howard Tayler Retrospective Sketch Book. If we hit the last stretch goal, Howard gets to write a novel. Perhaps these are things you'd like to help make happen.
See the Kickstarter here: https://www.kickstarter.com/projects/howardtayler/schlock-mercenary-books-14-and-15