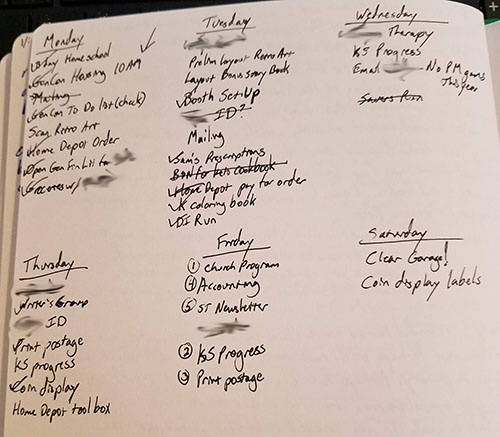 With shipping in full swing and LTUE only a week away, I am living by lists these days. Of late the lists have been on paper since I'm finding it useful to see the lists for each day side by side. Sometimes it also serves as a useful memory trigger to be able to picture where on a page each task resides. I still have an electronic task list that pops up reminders to me, but mostly those reminders serve to prompt me to add it to the page for the week. Last night I even numbered the tasks for today so I'd have direction on what to do first, second, etc. I've already departed the numbered instructions since "blog post" is nowhere on the list. Nor is "500 words of fiction" Both of which I've already done this morning.
Most of the days this week have felt scattered and less productive than I wanted. There were some emotional impacts because family needed support, there is also the new Eating Healthy project which will theoretically become habitual and simple, but which for now is taking significant time and attention. So I'll wrap up this post and move onward with my list by announcing two things.
1. I'll be at LTUE next week. It is a fantastic symposium event where you can come and learn how to be better at creating whether you're an artist, writer, game designer, film maker, etc. The focus is on speculative fiction, Science Fiction, Fantasy. I'll be most easily found in the dealers' room at the Schlock Mercenary tables.
2. Since December I've been sending out monthly newsletters. They include progress reports on my writing and a long-form letter where I muse about something that is on my mind. I'm hoping to send out my next one later today. If you would like a letter from me, you can sign up here: Letters from Sandra.