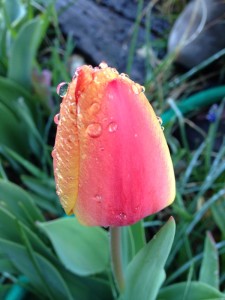 In April the fact of spring becomes obvious. This makes my heart happy. Yet I have a habit of being tangled up inside my own head and failing to notice the world around me. This is particularly true since I don't have to leave my house to go to work. There was one year where I looked up at the beginning of May and realized that I had completely missed daffodil and tulip season. This year I plan to pay attention. The world is full of small beautiful things that exist whether or not I take time to see them, but my life is enriched when I take time to notice. And some of them do get more beautiful for my attention. The flowers in my gardens grow stronger, bigger, more beautiful when I take time to pull weeds and scatter fertilizer.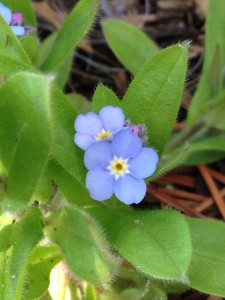 I took some time to do that yesterday. I also planted some summer bulbs that are a gift to myself in June when they bloom. I also uncovered small gifts that I planted for myself some months prior, like this little forget-me-not. I love forget-me-nots. They remind me of playing with a childhood friend. We weren't allowed to touch his mother's roses, but we could pick as many of the tiny blue flowers as we wanted. Each plant only lives for about two years. Once the plant expends all its energy into flowers, the plant itself dies, but from among the hundreds of seeds, new plants will sprout, spreading tiny blue loveliness for next year.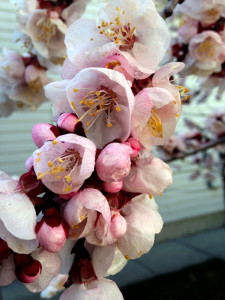 The arrival of April reminds me that I was supposed to prune trees and grape vines in early March. Hopefully I'll get out there during this next week while my kids are on Spring Break. I may even declare a yard work day and get the kids to help me. The abundance of blossoms on my apricot tree are a testament to the value of pruning. Two years ago the tree was weak and straggly. It had over-produced fruit for two years in a row. I pruned it back vigorously last spring, cutting off all the branches which might have borne fruit. This forced the tree to focus on leaves, which feed the tree, rather than on fruit, which takes energy from the tree and gives it to the possibility of future trees rather than feeding the tree it came from. The tree grew strong again, and this spring it is covered in blossoms, which are beautiful to see. As soon as the blooms fade, I'll trim the tree again. I'll not trim off all the fruit, but I'll thin it out so that the tree can supply some fruit, but still have energy for more leaves. There is probably a lesson for me in self management as I consider managing this tree.
This April, in an effort to nourish myself and to share beauty, I plan to be posting a photo a day over on my twitter feed. They may all be plants and flowers from my garden. Or they may be something else that catches my eye. The only rules I'm attempting to abide by, are post at least one per day, and only post pictures that bring me happiness. You're welcome to follow along.