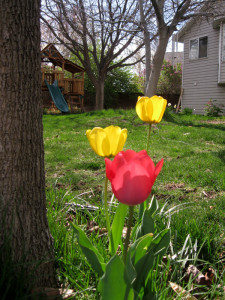 I've had tulips for as long as I've owned this house (18 years and counting). There was an abundance of them in the front flowerbed the first spring after I moved in. The thing with tulips is that most varieties of them will only come back for a few years before dying out. There are a few exceptions, mostly in bright yellow and solid red. Over the years I've dug up beds, redistributed tulip bulbs, bought new bulbs, and generally been a disturber of the earth. Some years I tend my flowers. Other years only the fittest will survive the incursion of weeds and neglect. Yet I've always had yellow tulips because they persistently grow and spread. One patch will die out, but another will thrive. In my backyard, yellow tulips are the only ones I have because I've not taken time to re-plant other colors. Except this spring I looked out my back window and saw a surprise. Pink tulips in my backyard flower beds. There are three of them in three different places and I don't know how they got there. I've never seen pink in the back garden before. I know I didn't do any planting last fall.
My mind spins on the puzzle as I stand at the window. I ruminate on spontaneous hybridization (happening identically in three locations) or an accidental scattering of seeds. I assume that tulips can grow from seeds though bulbs work much better. Then I stop myself. This is not a problem that needs a solution. I don't need to know how they got there, I can just enjoy the fact that they are.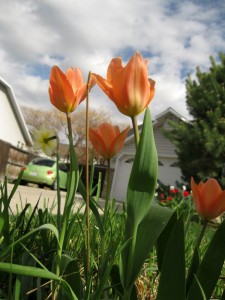 This is one of the things I love about seeing my garden year after year. It always changes. There is always some surprise or a new manifestation. This trio of apricot-colored tulips used to be giant and in classic tulip shape. Yet this year they are small and airy. It probably means that in another year or so they'll vanish as tulip varieties so often do. Then I'll plant some other tulip in that spot, or perhaps the lilies will take over. Each spring my flowerbeds change. They are different than the year before.
In fact the beds change not just year to year, but day to day. I've been noticing this as I spend five or ten minutes wandering outside with my camera in hand. I'm looking for things to photograph for my April photo a day that I'm posting on twitter. Some of the flowers I photographed only a week ago have lost their petals and are done for the year. Others have shown up where I didn't expect a flower at all. And then there is the slow watching of plants and flowers developing. This peony won't bloom until late May or June, but the buds are beginning to grow now. They've grow in just the past week.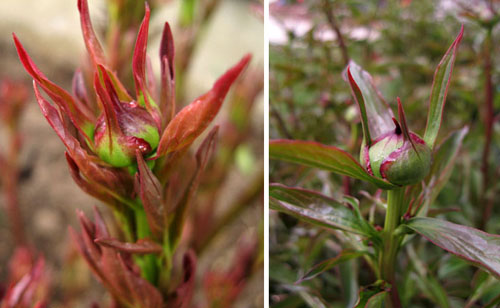 I'm always a little sad when I see the flowers begin to lose their petals. The tulips drop theirs fairly dramatically. One day flower, next day just a stem. For today the palm-sized petals are still lovely even on the ground. I know the tulips will be back again next year and they need to make way for the summer flowers which are just beginning to shoot up.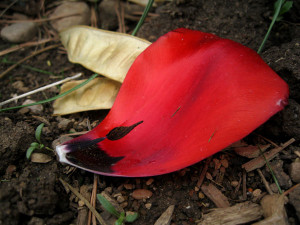 I wish that the serendipity of unexpected beauty were as easy to see as in my garden. I wish that emotional growth and development in my children were as simple to spot and photograph as the buds of my flowers. I wish that life made it easier to see that sad things sometimes have to happen because without them future happiness can't be. I wish these things, but for now I'll walk my flower beds and feel that the sorts of things I see there are happening in other parts of my life as well. Life is full of beautiful growth, but I won't see it unless I stop and pay attention.