This last week before GenCon I had a to do list as long as my arm. I began whittling away at it on Monday morning. By afternoon I was ready to run out and get Prescription refills. Then this happened.


A semi shed giant pieces of tire across my lane and I didn't see them until the car in front of me sent them flying at my car. No time to avoid, I drove over them. So all of Tuesday was spent talking to insurance people and the car repair shop. The good news is that I have insurance and a fairly low deductible. Unknown is whether this incident will raise my insurance rates. It is a possibility since I had an accident (my fault) only a couple of months ago. But more good news is that my local insurance agent and the car repair place conspired to give me a rental car at no charge even though my policy does not cover rental vehicles.
This is also happening in my house this week: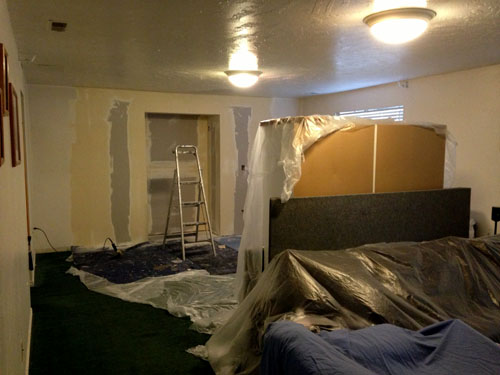 Home construction is not what I'd pick the week before a major convention, but that is how the schedule worked out. That nook used to be a fireplace that we never used except as a flat place to accumulate all the things which didn't really have a place to belong. Now it will either be a game closet or the storage space for electronic devices. We're gaining a significant amount of square footage and we like it already.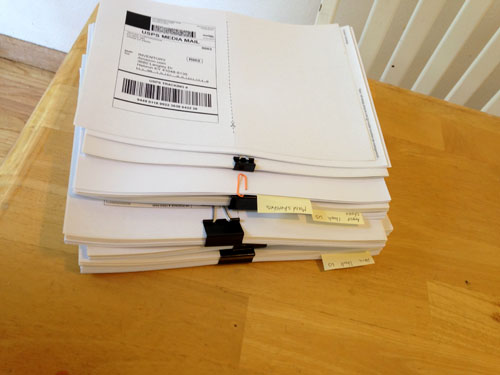 I also spent time on Tuesday preparing these. They're the final invoices and postage for the Force Multiplication shipping.
I bought boxes for the orders to go into. They also arrived on Tuesday: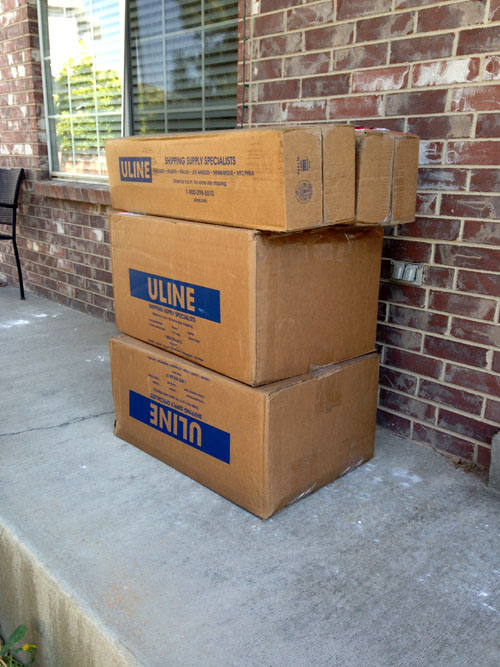 Wednesday morning I hauled two of my kids over to the warehouse and put them to work making packages.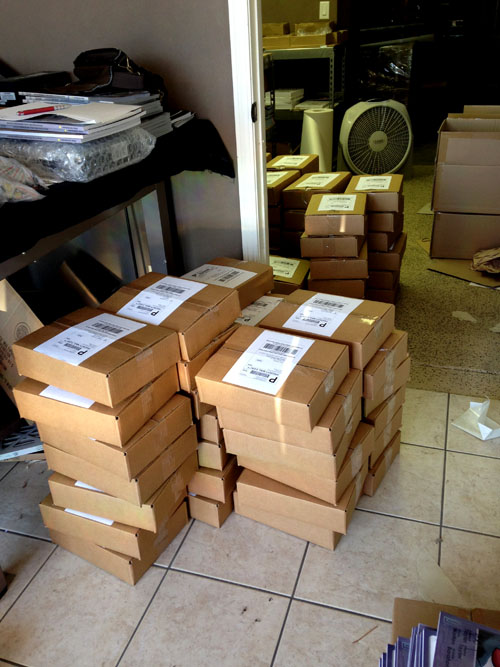 Unfortunately the air conditioning at the warehouse is not working well, so we were hot, sweaty, and tired in short order. That's when a truck pulled up. I'd been told "We'll call Wednesday morning for a delivery appointment." But they didn't call, they just showed up. I guess it was fortunate we were spending a hot day at the warehouse.
The truck delivered these: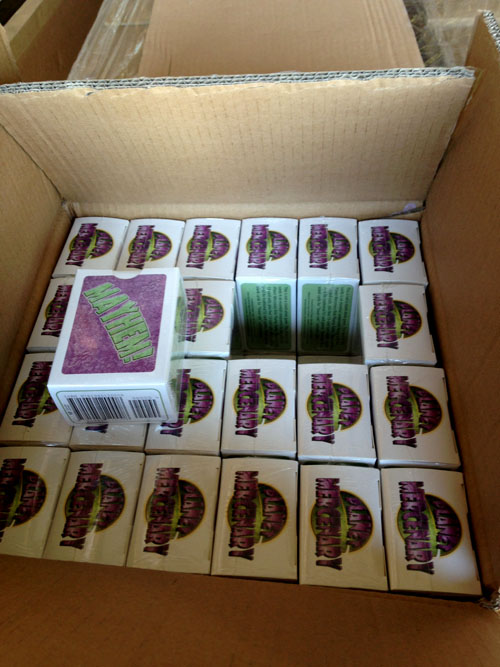 And these: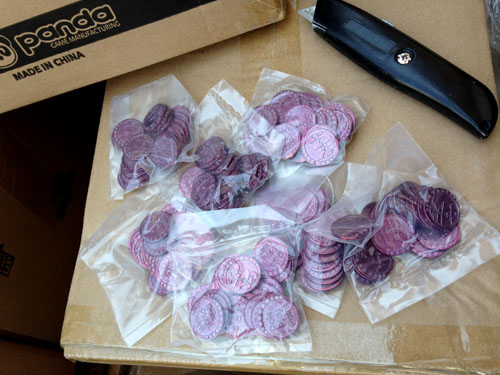 And these: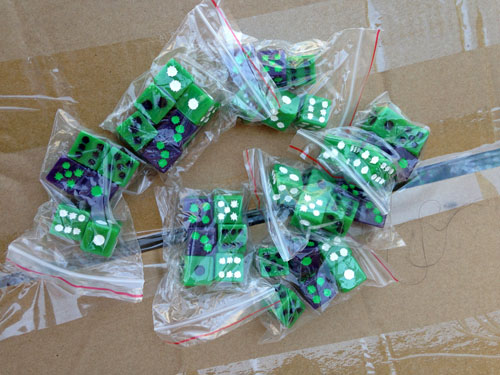 All of which are things we are going to need for shipping Planet Mercenary once we have the books done. Unfortunately the contract with the trucking company didn't obligate him to wheel the pallets inside. He kindly did for the two lighter pallets. But the heavy pallet was too much to try to get over the small lip into our warehouse. Which left my son and I hefting heavy boxes in 90 degree heat. Had the company actually scheduled a delivery appointment, I'd have arranged for more lifting help. But we got it done.
Then we finished the shipping: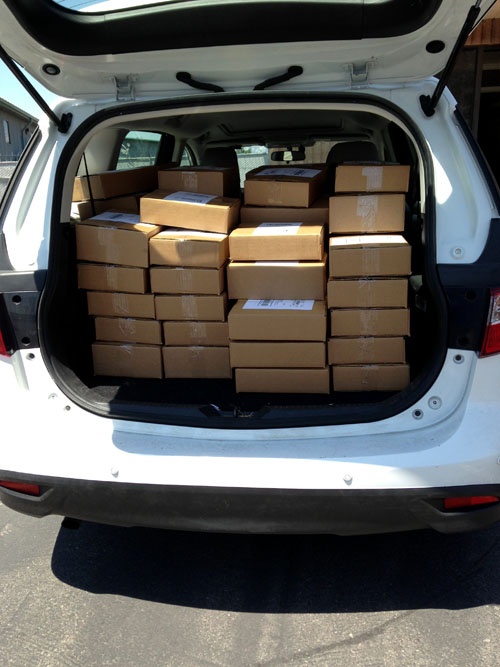 Today I had to scramble to assemble sheets for the Planet Mercenary games that will be run while we're at GenCon. It was my plan to scramble something together. But when my book designer heard what I was up to, he said "would you like me to do that?" So instead of spending all day frantically attempting to lay out the sheet, I was able to spend 3/4 of the day making sure I'd collected all the relevant information and images. Then I put them into a format where the designer could plunk them into place. It took much longer than expected because I was pulling information from six different sources. I shudder to think how stressed I would have been had I also had to try to make it all attractive.
This was my first pass attempt. Note that some of the elements were borrowed from a prior design pass that my designer did. I don't have the skill to make some of the decorative elements, but I can plunk them into place: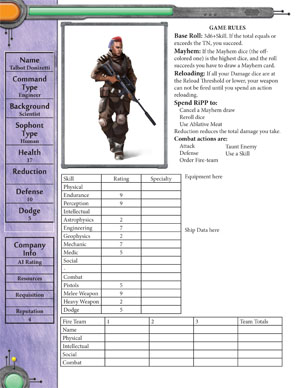 This is my layout designer's first pass: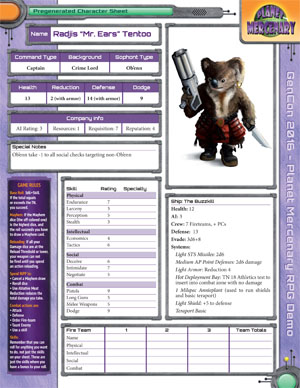 Seriously folks, be willing to pay money for good design. It makes all the difference.
Since my designer currently resides on the other side of the world, I was able to collect all the info while he was sleeping. Then he could work while I was sleeping. (Though I'm not actually sleeping at this moment. Hello 3am insomnia.) Tomorrow (Friday) I will collect the images and haul them to a printer.
Sprinkled throughout the week was customer support for the Writing Excuses cruise and for Schlock customers.
Thursday also contained taking my daughter shopping for the last wardrobe thing she needed in order to be a bridesmaid at a wedding on Friday. She also needed to get a painting framed because it is her gift to the couple.
Things on my list for Friday:
Accounting
Pre-pay hotel room for GenCon booth staff
Write a couple of emails related to the WX cruise
Call a doctor and remind him that he was supposed to send a prescription to the pharmacy
Final odds and ends for the Force Multiplication shipping
Update some store items in the wake of Force Multiplication shipping
Take Pre Gen sheets to printer
Make reference cards related to the Planet Mercenary GenCon games
Assemble player kits for the GenCon players
Assemble GM Kits for the kind folks who will be running our games
Prepare two solo presentations that I'll be giving at GenCon
Help Kiki sort out some plot issues with a story she is working on so that she can continue to work while I'm fully occupied at GenCon
Go over the 70 Maxims book copy edits
Work on collecting the remaining handwritten notes for 70 Maxims book
Scan the handwriting
Assemble 70 maxims pages to check layout
Begin packing for GenCon
Move things around in my family room so that the workmen can paint ceiling and walls.
Attend a wedding reception
That is more things than I can reasonably do in a single day. Fortunately some of them can roll over onto Saturday and Monday. But right now I need to go see if writing up this blog post has now convinced my brain that it does not have to hold onto every single thought. We can let go and sleep. Really.