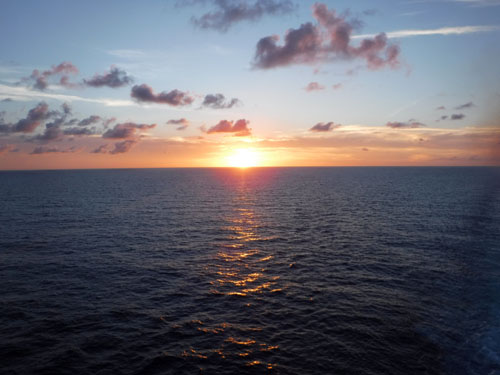 I have spent the last ten days away from my house with all of my children. We traversed the country via shuttle and airplane. Then we got on a ship to sail for seven days. Today we returned home. I have so many thoughts about all of it.
The event was the Writing Excuses Workshop that for the past two years has taken place on a cruise ship. I wrote about it last year. This year was also magical, but also more exhausting because I was pulled in more directions. My children had never taken a trip like this one before and they needed help learning how to manage themselves and navigate the cruise experience. I did not have many down times where I got to emotionally process the experiences. I was often up until 2 or 3am, either because I was finally getting a chance to sit and have a lovely conversation or because one of my kids hit meltdown at midnight and it took that long to help them sort it.
The entire thing pinged between marvelous and exhausting. I had joyous moments with my family. I also had moments which made me cry because I don't have fixes for hard things in their lives. Pretty much all the sibling conflicts busted open at one point or another. The kids finally said to each other some of the things that they've only been willing to say to me. Their world is a different place post-cruise. We'll see what changes that makes in the patterns of our lives back at home. I would like for some things to be different.
There is real power in taking a family, pulling them all outside their comfort zone, and then trapping them there for a week because we simply can't abort the experience until the ship gets back to port. I flat out couldn't solve some of the problems, which meant the kids had to face the problems and deal with them. It was hard on them sometimes. Mostly it was hard on Link, who is a creature of patterns and habits. The family had to take turns helping him get through. Gleek loved the teen program and ran her own schedule. Kiki loved being staff for the conference. Patch had an abundance of time to read and enjoyed being at the adult tables for dinner. Link discovered he loves snorkeling.
And all of that doesn't begin to touch the conference aspects of the cruise. I renewed friendship with people who have attended prior events. I made new friends. I got to meet in person some people that I'd only known online. It was very difficult to be pulled away from conference classes and conversations to check on kids, manage kids, require kids to try things they didn't want to try (which they then loved). I wanted to spend all my time in classes, in conversations, in helping manage the event, in sitting down to get my own work done.
I got no work done other than staying on top of email. Work was one of the pieces that simply didn't fit. I don't know what that means for work this week. Howard had trouble clearing space to be working as well. If we had not had the kids, I think we would have gotten much more done.
I have many thoughts about cruises, about kids on cruises, about cruises and special needs people, about the social environments on the ship, about the shows on the cruise (which I would not have seen except that I needed to pull kids into activities,) about the size of the ship itself and whether it is wise to make a ship that large. Our ship was one of the largest in the world. I hadn't really wrapped my head around that fact until I got off the ship at Nassau and saw this: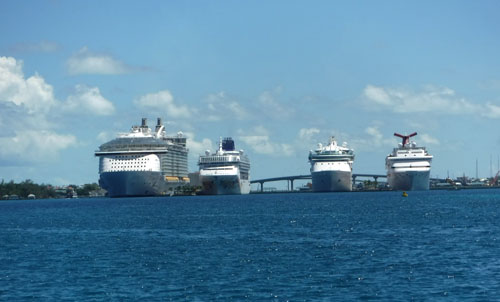 One guess which was our ship. Gleek got off the ship onto the pier and looked up to the top of the ship beside us. "They're like mountains!" she said then she turned to look up at our ship "Whoa, ours is even bigger." I'm glad to have sailed on a giant ship once, but I preferred the smaller ship last year.
I have even more thoughts about the emotional experiences of this event. I need some quiet processing time before I can frame those thoughts. But I will say this, every time an emotional thing was hard, I was able to see exactly why it was an important experience to have. Not fun, but definitely important.
On the other hand, anytime things felt hard, I could step out onto my balcony and watch the water flow by. Within moments my spirit would quiet and calm would flow over me. I really need a door in my house which opens up to a balcony like that.
I'm exhausted both physically and mentally. I want to bounce right back into work, into helping the kids get their schoolwork made up, into being effective in regular life. But I have some sleeping and processing to do. Emotional processing is important work and it requires a free space of time for it to happen. Right now, bed.