Dolphins have a series of sounds that they always use when approaching another dolphin. Each dolphin has a unique set of sounds. This means that dolphins name themselves and routinely introduce themselves by name.
If you place two Tayler kids at adjoining tables, they will create little fortresses and villages out of sugar packets.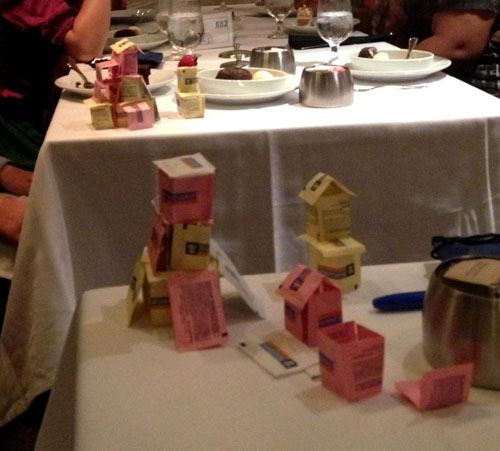 Different ships have different social structures between staff and guests. This one felt more stratified than the last ship. I kept trying to put my waiter and my room attendant at ease and was never able to quite do it.
The world is full of amazingly kind people. Many of them were our attendees and teachers for this event.
Having a larger ship does not mean I'll feel the ocean less. Because the ship was so tall and the underwater portion shallow in comparison, I felt the motion of the ship most of the time. I never felt sick with it except on the one night where I was in the highest lounge of the ship while the ship was skirting the edge of a storm.
I do not like it when they make the dining hall staff dance to music. I'd much rather be having conversations. They danced four times during the week. It was a lot.
Sometimes the light strikes the water in a way that makes crepuscular rays reflecting down into the water. This is hard to catch on film, but I tried.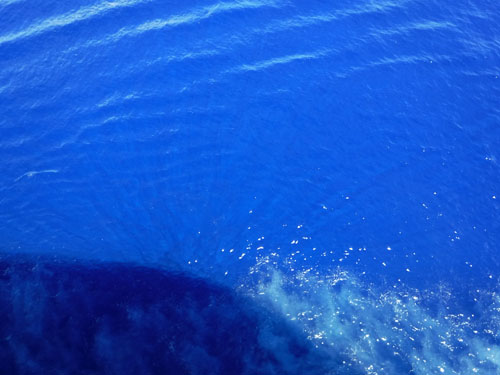 There were lots of knowledge gaps in my children's experiences of travel. Howard and I were frequently explaining things and demonstrating things. They had to be shown how to navigate an airport, how to order room service on a ship, how to share elevators with lots of other people, how to be polite in all the small ways that are necessary in crowds.
Bringing kids onto a crowded ship with fourteen decks, then making them stay for a week, is an effective way to exterminate elevator anxiety.
While some of my kids dove in, did their own research, and ran off to do things, I had to be cruise director for some of the other ones. I had to book tickets to shows then require them to actually attend those shows, which they then enjoyed.
Nassau has iguanas everywhere. This delighted all Taylers.
Dusk while pulling away from port is beautiful.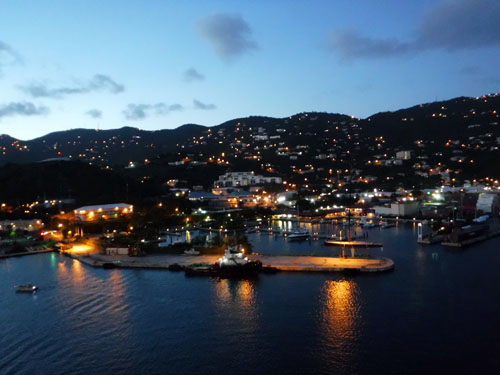 Standing on a balcony and watching water flow by is a huge destressor. Riding a smaller boat with wind in my face is also a destressor while simultaneously being invigorating.
Dan Wells will let his assistant paint his nails if the polish is glow in the dark with tiny bats.
If we leave the room set up and the mics hot, apparently attendees will host a spontaneous Writing Excuses episode with various people playing the part of the cast members.
Swimming with dolphins will make my daughter vibrate with joy.
Other people genuinely like my kids and find them charming. This is nice to know because I often worry that their various intensities will make them bothersome in public.
Old Heidelberg is a marvelous restaurant and I should eat all the potato pancakes.
When there is a fire at an airport, security will completely empty the terminal and we'll get to stand in a long line waiting to get into the building. Once inside I could smell that it had been a bread fire, it smelled exactly like scorched toast. Then I thought about it and realized that the evacuation was not an over reaction. A small fire could be a staged distraction and they had to rule that out before allowing travelers back into the building.
If you let Gleek loose with a free afternoon and a pool area populated with little lizards, she will become so expert at catch and release that she can practically just walk up to them and pick them up. Also, she will manage to tame them so that they'll just sit on her hands and shoulders.
Those photos with water and hair flips are a lot harder to pull off than you would think. Water up the nose is a serious issue. Also if you have long hair, it requires serious back muscles to move the weight of the hair and water.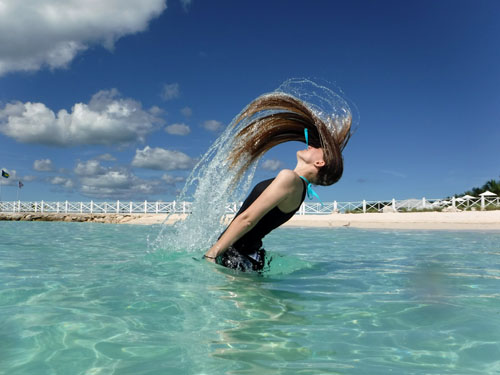 Given the opportunity, a conference of writers will claim space in a lounge and gradually all the other people will leave because we're talking about weird stuff.
While on a cruise, strangers will use the elevator ride to divulge random details about their lives. Sometimes this is delightful, other times it's just weird.
If you put siblings into tiny cabins for a week, all the latent rivalries and tensions will come to the surface.
Day three is when kids melt down and want to go home. Day five is when they really settle in to the rhythms of ship life.
An autistic adult who is removed from most of his familiar routines, will need someone to be with him pretty constantly so that he doesn't retract inward into loneliness and sadness. Also the newness of things means he can't fully enjoy them. They have to repeat and become familiar before he can evaluate if he actually likes them.
When we are willing to be vulnerable with each other, a powerful connection can be formed in a very short span of time. Also a single sentence can tell a powerful story. I witnessed nine people take painful personal stories and distill them into a single sentence as part of an exercise. It was amazing.
My camera has settings that let me catch moon on water (If a bit dark and blurry). You can also see the constellation Orion if you look right of the moon.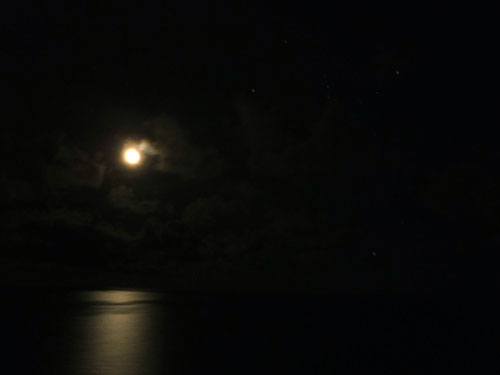 I need my trips to have spaces of unscheduled time so that I can process the experiences I'm having. I'm home now and life is moving onward. Some of those thoughts are going to be lost or buried unexamined.
I love writer people. (This isn't a new thing I learned, but it is a thing I've been reminded of.)
Royal Caribbean has an entire Autism program. I knew that before embarking, but I thought it was kid focused so I didn't tap into it on the ship. After disembarking I learned that they're trained to help autistic adults as well. If I'd engaged with guest services we would have had a different week. But since every single hard thing opened up new knowledge and realizations for all of us, I'm not sure I'd trade away the week I had. If there is another time with my son along, I'll have a conversation with guest services.
Sand and water are good for hours of entertainment, even when the kids are all grown up.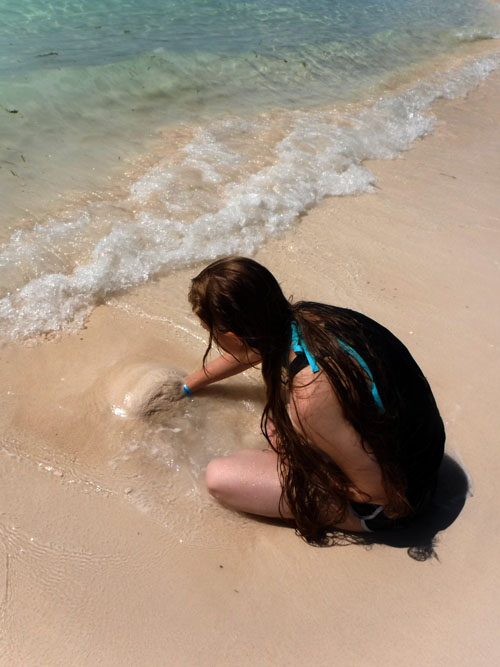 Sometimes when I make my kid go along on an excursion that he really doesn't want to do, he will discover that he loves part of it. Same was true for dinners and shows. I need to make him do more things that make him uncomfortable so that his world can become larger.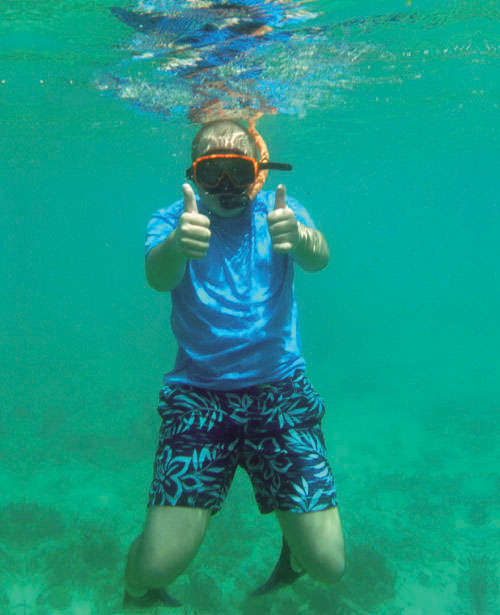 Sometimes it only takes small things to create happiness.
There are people who can understand what I'm dealing with and will give me hugs when stuff is hard.
The WXR staff is amazing. We watch out for each other and tell each other when to take time off or to nap. When an emergency comes up, everyone steps in and helps so that the conference proceeds smoothly while the emergency is managed. And happily the emergency was minor and resolved without any long term consequences.
Ships on the ocean leaves trails in the water, much like airplanes leave contrails in the sky.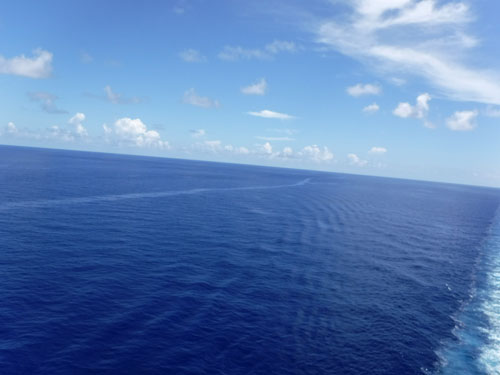 All of that, and I've only begun to mention the things I've learned in the last ten days. I wish I had the funds to travel more with my kids. I wish I had the time to travel more. I'm looking forward to next year's WXR cruise in Europe.
I had a marvelous, wonderous, complicated, challenging, stressful, joyful, beautiful trip.