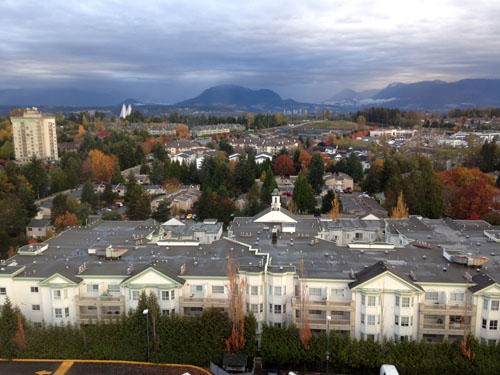 I spent my weekend at Surrey International Writer's Conference in Surrey British Columbia. I had never before been to either that portion of Canada or to that particular conference. I found both to be a lovely experience. While at SiWC, I got to present The Power of Picture Books and Design Principles for Book Covers. Both presentations had fantastic audiences who asked really smart questions and shared pieces of information which added to the discussion.
The remainder of my teaching time was spent on Blue Pencil sessions where attendees would bring me a few pages of their writing and I would read it on the spot so I could give a quick critique. Each blue pencil appointment was fifteen minutes and a session was five of these in a row. It was mentally tiring, but also really invigorating. I love sitting with another writer and helping them find pieces they need to make their work closer to what they want it to be.
One thing I loved about SiWC was the breadth of genres that the conference embraced. They had teachers for romance, science fiction, fantasy, memoir, narrative nonfiction, picture books, middle grade, YA, non fiction, etc. Most of the writing events I attend have a heavy Sci Fi and Fantasy emphasis. This makes much of what I write tangential to the focus of the conference. It was lovely to attend an event where I specifically invited for expertise that other events don't want.
Another thing that was different about SiWC was that the meal times were wrapped into the conference experience and made to serve as a time for writers to connect with each other. There were banquet style lunches and dinners with round tables and open seating. For each meal I got to sit with a different group of people. This was sometimes a little bit tiring for an introvert like me, but then the conversations started. We talked writing, the classes we'd been to, things from our lives, and about the conference itself. These meals were a chance for friendships to form. It was a beautiful thing.
On my evaluation form, the conference asked me about my best moment during the show. I'd have to say it was watching people who'd come into a class by themselves leaving the class in groups who were talking to each other and sharing contact information. I was so happy to be a part of that, because we all succeed better when we connect with and help each other. SiWC is a conference where being welcoming to new people is written right into their goals for a successful conference. It certainly worked with me. I was never left standing outside some in-joke where long timers were laughing and I didn't know why. They brought me inside, invited me to laugh with them, and I did.
If you're looking for a writer's conference to attend in 2017, you should consider SiWC. It is worth both the time and money. I know I would be delighted to be able to go back again.