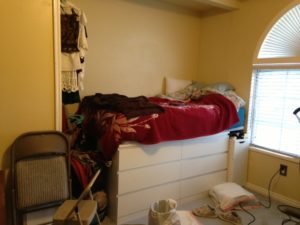 The project I've been working on this past week that I haven't been able to talk about was a house renovation. My daughter was coming home from college and the room we have for her is small. But we realized that if we knocked out the wall of the closet, her bed would fit in there, leaving a much larger space for the rest of everything. I decided to knock out that wall and have it ready for her before she returned. So while I was making the fun discoveries that always happen with home construction projects, I wasn't able to tweet commentary because it would ruin the surprise.
I retrieved Kiki from college on Friday. Then she and I spent Saturday assembling an IKEA dresser and using power tools to create a platform support for the back half of the bed. I feel very pleased that the platforms were created entirely from materials that I salvaged while removing the wall. The result is a lofted bed with a dresser so that the old dresser can be removed from the room, giving her even more space. Also, there is a crawl space behind the dresser which is very useful for storage of college things that she won't use again until August.
I'm bumped, bruised, scraped, and sore, but the project has been a good one. Now Kiki can set up art studio space in her room.