We've been working on a remodel for years now. Six years ago, I repainted the front room. In 2016 I tore out a front closet and we stared at bare studs for 18 months. Last summer we finally put in the railing we'd been dreaming of. This summer we'll be putting in work staining unfinished cabinets and installing them. Bit by bit we are going to transform our front room space. The goal is to get rid of that pantry wall in the middle of the room.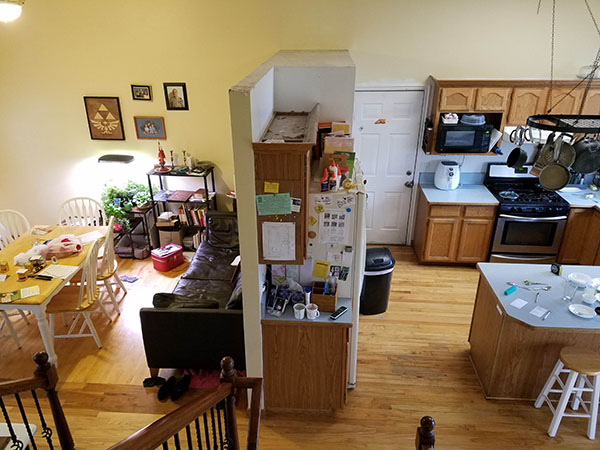 It will be replaced with an island counter. But before we can tear down the wall, we have to create new homes for all the food that currently lives in that pantry. We'll be creating a pantry wall on the other side of the kitchen. But before we're ready to put in those cabinets, we wanted to test and make sure that we can actually do this cabinet staining and installing ourselves. So we're beginning with installing a painting table and cabinets in Howard's office, and also installing cabinets and coat hooks in the entry area.
We ordered cabinets and they arrived a couple of weeks ago. Since then we've been test staining to make sure we can match the color of the railing.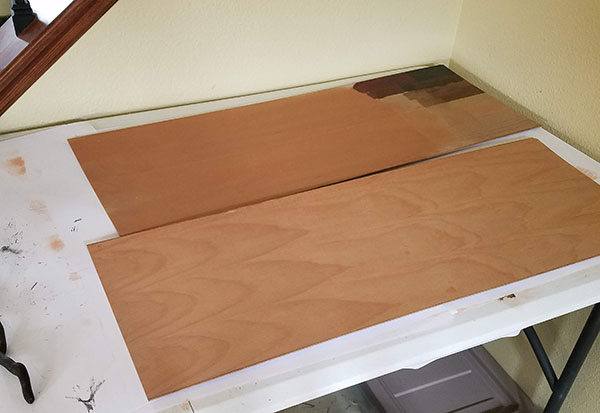 Howard and Keliana picked a piece of plywood with beautiful patterns to be the table top for the office painting station. On the floor you can see the outline of where we removed the closet.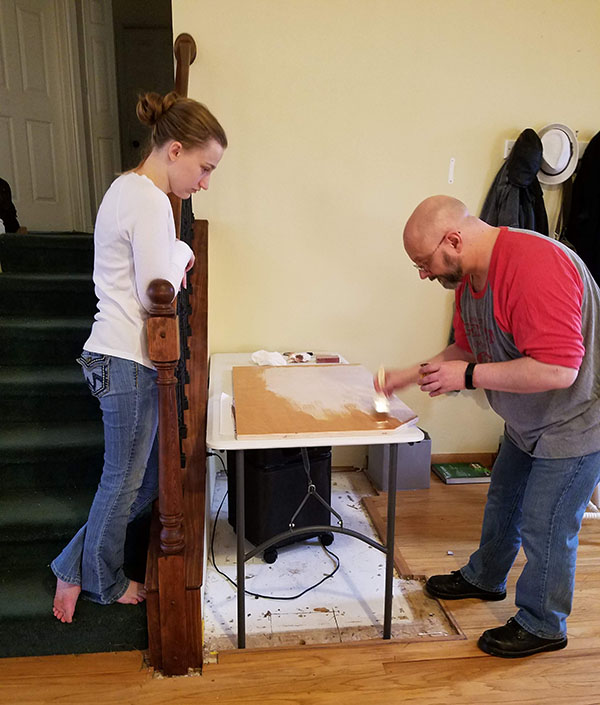 We've decided on a two-tone look for the cabinets. This is our test cabinet. For the remaining cabinets the base will also be the lighter color so that the doors look like picture frames. We have some ideas about decorative things to do with those frames.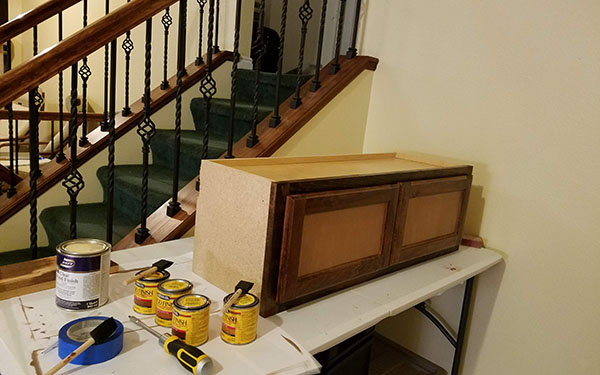 Up next, pulling doors off of 11 more cabinets so that they can be sanded and stained. I've also got a window sill to assemble and stain. Now if only the weather would cooperate and warm up. Wood doesn't stain well if it is below 60% so right now we're having to bring things indoors to stain. It'll be a lot faster when the garage is a good staining temperature and we can assembly line the work.
So that's where we are with the project this week. My hope is that we can have that pantry wall gone by the end of the summer.