My garden of spring bulbs is exceptionally beautiful this year.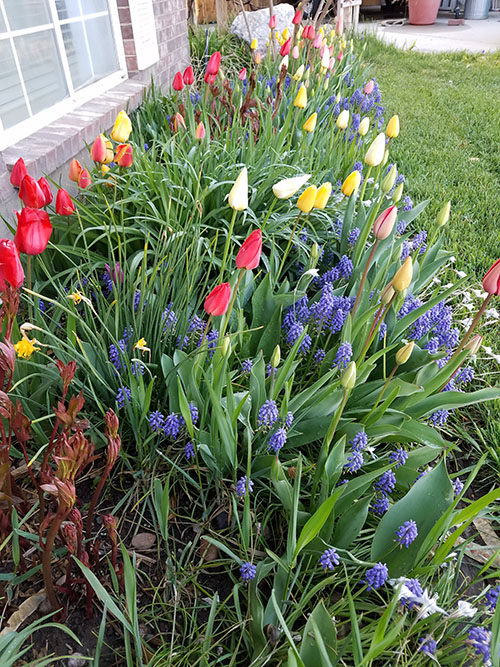 I keep wandering outside to just walk along the bed and admire them. The thing is, I haven't planted any bulbs for years. Common gardening practice is to plant bulbs in the fall, tear them out in the spring, plant annuals for the summer, then tear them out in the fall to plant bulbs for next spring. The reasoning behind this is that tulip bulbs don't thrive year to year. If you leave them in the ground you get a giant tulip the first year, a smaller one the following year, and by the third year you may not get a tulip at all, just leaves.
Yet here in my garden, my tulips are multiplying. In this spot I planted three bulbs several years ago.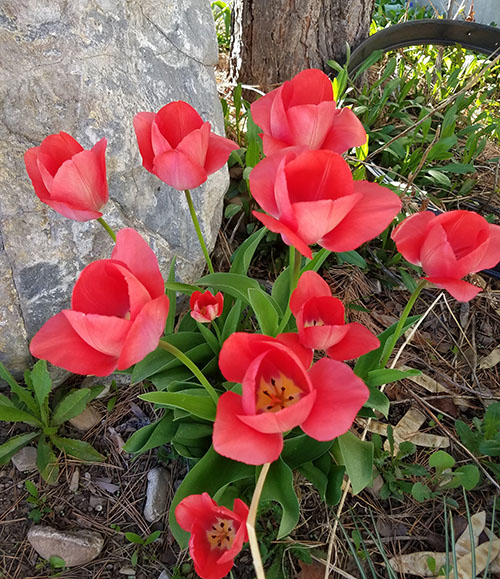 The truth is, I don't have the patience to rip everything out twice per year. I need my plants to thrive with only sporadic attention from me. I also know that I'm far more likely to give that attention in the spring when I'm craving flowers and green things after the winter, rather than in fall when I've spent all summer feeling guilty about the gardening I meant to do, but didn't. So in the spring, I buy granulated bulb food. I scatter it across the garden beds when the bulbs first begin coming up, which encourages them to grow large. Then I scatter it again as the blooms are fading so that the bulbs have extra nutrition as they're stocking away energy for the next year. The only other thing I do with regularity is make sure the bulbs get water in the spring even before the sprinkler system is turned on.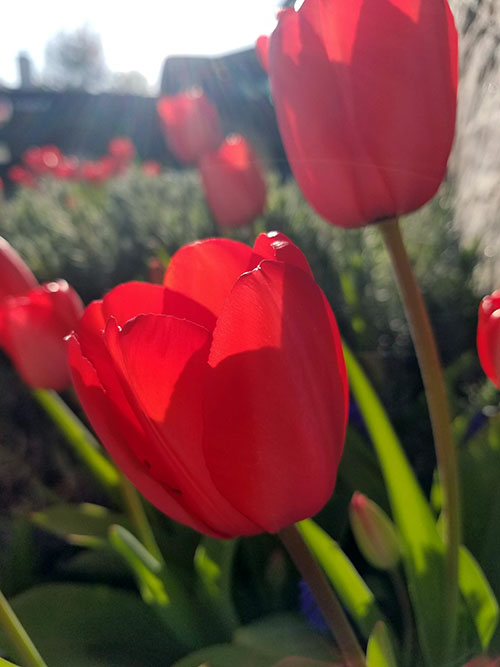 I've been following this process for about three years now, and all my spring bulbs are thriving. But it took a while for that to happen. This is the thing about bulbs, you hide them in the ground months before you see anything that looks like growth. Then they bloom and are gone. But if I feed them, they hide away for an entire year to re-emerge again.
This spring my children are also blooming. It has been a long series of seasons full of dormancy, hiding, and darkness. Yet this year, all of the quiet tending and feeding has given them the resources they need to roll out green leaves and even a few tentative blooms. I know that the future may hold more struggles, but the growth they are doing now gives them strength to grow even more.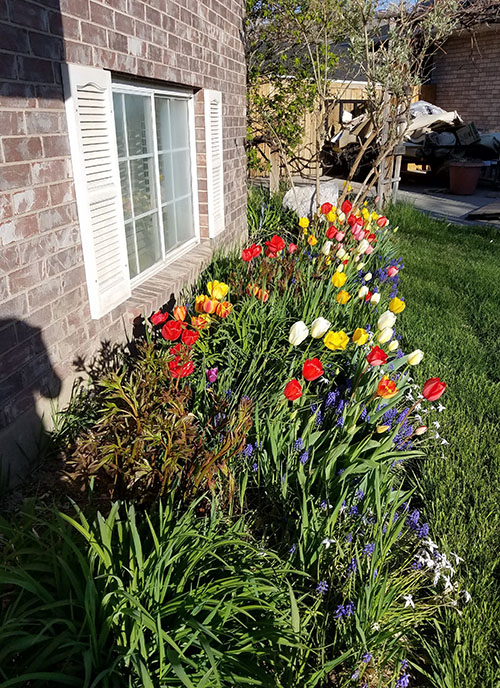 To be a gardener is to feed, weed, and tend with no guarantee that the plant will thrive. I can work to create optimal conditions for my plants, but it is their own internal process that drive the growth. Parenting teens and young adults is much the same. I've done a lot of throwing nutrients around and then waiting. Waiting can be hard and discouraging, but in spring I am reminded that many things grow again after looking dead for a season or two.