The morning began with a quest. I'd only been up for a few minutes when Howard wandered into the room and said "you want to go get crepes for breakfast?" The crepe place is down in the Riverwoods shopping area, which is full of Pokestops and Pokemon Gyms. This fact is relevant since our entire family has taken up Pokemon Go in the past month. So we gathered everyone who felt like questing and off we went.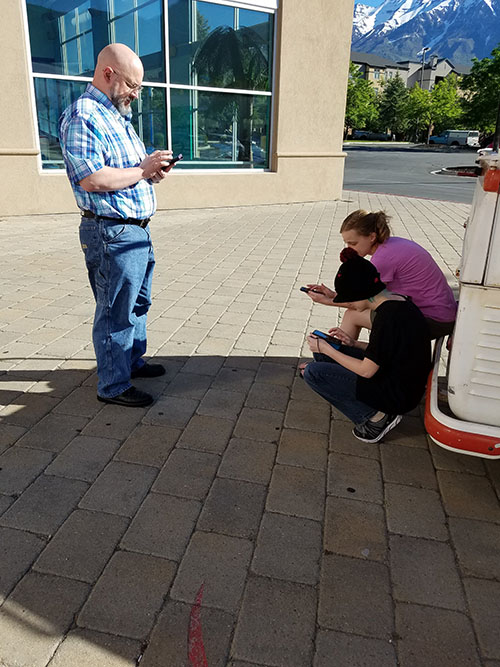 The weather was lovely, the food was good, and most of the stores didn't open for another hour or two. We wandered along the paths collecting Pokemon and spinning stops. Almost everything about Pokemon Go is designed to get people to leave their houses and walk to different locations. It has certainly worked that way for our family. We now have people randomly deciding to go for short walks, even though we're walking the same paths over and over, it feels new because we never know what surprises the game will throw our way. Going outside to stare at our phones and play a game is healthier for us than staying at home to sit in a chair and play a game.
I posted the above picture on twitter, and multiple people commented on the snow-capped mountain in the corner of the frame. It is so easy for me to forget that not everyone has vertical landscape looming over them at all times. I so often fail to notice how beautiful Utah is. I need to pause and admire the mountains more.
On the return home, I still had almost a full day ahead of me. For once, the most pressing deadline was on a writing task. I have a short story due at the end of the month and it isn't fully drafted yet. I'd so enjoyed being outdoors in the pleasant weather, that I decided to sit on my back porch in my red bistro chairs to find the right words to tell the story I had outlined. Milo saw me outside and was so forlorn that I put on his harness and brought him outside with me.
Writing is a strange process. After forming a scene in my head and then writing sentences to convey that scene, I hit a point where I don't know what sentence comes next. That's when I pause and open up twitter or do a quick stretch. I have to pull my brain away from the task at hand so that I can circle back around to it with renewed vigor. It is rather like getting a muscle cramp in my hand and taking a moment to shake it out and stretch.
During one of my twitter breaks, I had a series of thoughts about writing, happiness, and goals:
A thing I'm trying to make a habit: instead of focusing on the thing I want and can't reach yet, focus on the thing I get to do today which may eventually help me to that goal.

My writing career may never make significant money nor have much audience, even though I'd like it to have both. But neither of those goals will ever happen unless I put in the work.

And doing the work is much easier when I learn to love the work for itself rather than treating it like a chore to get me someplace else.

Today I get to sit on my porch with green things all around (and a cat) while I write a short story. That is a beautiful thing to get to do, even if the story never sells and is never read.

I wish I could always cultivate that mindset instead of getting tangled up in grief and worry. Of course the realities of money and bills mean that many days I have to set aside my personal writing in order to do the tasks which actually earn money. Some day those two things may come into more alignment, which would be nice, but I'm also aware that it would change my relationship to the words and the process of making them. Having a dream job often means turning something you enjoy into work, and it isn't always the best way to balance life. But all of that is in the future. For today I sneak time to do writing which I love and which pays for nothing. And I try to pause and recognize when I get to have a beautiful day full of breakfast quests, pokemon, and writing. No matter what comes next, it can't take away that lovely day I had.