My mind is a noisy place. It processes, analyzes, and tracks things all day long. This has lead to frequent problems with sleeping. Sometime last year I found the perfect image to illustrate the problem: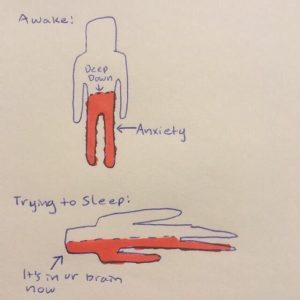 Of course I've had the problem for more than the past year. Several years ago I found a way to short circuit the problem. I was laying on the couch with Howard watching a familiar show and I drifted off to sleep. Then when the show was over and we moved upstairs to bed, I found myself wide awake thinking about All The Things. So I grabbed ear buds and a small device capable of streaming the show. I listened to the show while falling asleep. It worked beautifully. I could listen to the voices of familiar characters going through a familiar adventure. It was just interesting enough to keep my mind from wandering into fretting territory, but because I already knew the end of the show I felt no need to stay awake and find out what happened.
This became my nightly habit for several years. I made some changes like downloading episodes onto my device rather than streaming, I pick shows with lots of episodes so that I could work through them slowly. If I listened to a single episode too often, it became so familiar that it was no longer effective at keeping my mind occupied while sleep arrived. There were challenges with earbuds and laying on my side, but I figured those troubles were worth it to simplify sleep. I also kept the volume really low, just on the edge of audibility.
Yet in the past six months the number of inconveniences with my sleep system had increased. Streaming apps got much more rigid about allowing downloads, thus forcing me to stream episodes in order to listen. This meant that instead of playing a single episode and then stopping, the device would play three or four episodes, chewing up bandwidth while I was already asleep. Also even when a show has fifteen seasons, I would eventually reach the end of them. And as my device aged, there were more and more nights where I would lay down to sleep only to discover I had to spend thirty minutes or more troubleshooting the device. Late night tech support when all I want to do is sleep, is the worst.
On top of the logistical concerns, I began to be aware that perhaps drowning out the noise in my head with more noise might be treating a symptom without solving the problem. That perhaps I needed to be addressing and facing the noise in my head rather than trying to keep it at bay. So in the space after the wedding was over, when my executive function was burned out, I began to re-learn sleeping.
My basic practice right now is that when I'm trying to fall asleep, I use the meditation technique of focusing on my breathing. I pay attention to my breath, to relaxing my muscles, and to feeling the fatigue in my body. When my mind begins to wander into plans for tomorrow or anxieties about the day just past (and it always does) the minute I realize my mind has wandered, I gently pull it back and refocus on breathing again.
It can take me an hour or more to fall asleep using this method, where as listening to a show frequently had me asleep in less than ten minutes. Yet in the few weeks I've been practicing, I'm getting better at it. My time-until-asleep has shortened. The key is to be patient with myself and with my body. I have to recognize that practice is required to teach my mind to let go of being in charge long enough to fall asleep. Yet learning this skill doesn't only help me with sleeping. Every night I am practicing being calm. I am practicing accepting my body and breath as they are. I am practicing letting go. All of these things are skills that are also applicable in my waking life. Remembering I'm practicing skills helps me to be patient with the process.
I don't know what my future holds. I don't know when life will hit me with an overwhelming quantity of things to track that lead to insomnia. But I do know that the work I'm putting into re-learning sleep will help me be more centered and focused in facing whatever comes next.