My emotions are all over the place today.
Howard got the results from his Covid 19 antibody test: negative. He has not had the current pandemic illness and has no antibodies to defend against it. This means that whatever is going on with his lungs is a separate issue and him catching Covid on top of it is dangerous. So our level of alertness has gone back up right when the rest of my communities seem ready to breathe easier.
We got a wearable oxygen tracker for Howard. We finally have visible data for why he's constantly out of breath. This graph represents an hour of measurements. Orange is not good. Red is bad. The little triangles at the bottom represent points where Howard's O2 levels dropped into the range where the device sounds an alarm.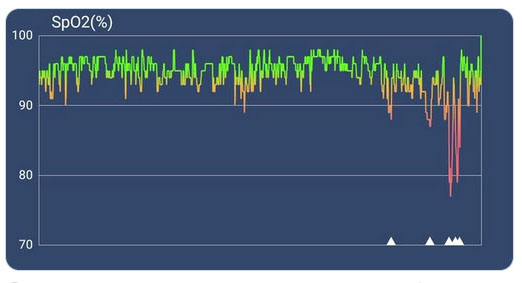 This is what we expected to see, and in some ways it is validating to see. Howard isn't malingering or making this up. Something is really happening. Interesting that while neither of us for a minute thought he was making this up, yet both of us had a relieved "something is really going on here" moment. Mine was followed by grief and fear for what this means for the future. I'm working to pull back from too much contingency planning. Right now I need to make moves that provide a solid foundation for a number of possible futures. Moves like paying down debt and being conservative about spending.
Gen Con officially canceled for 2020. I knew it was coming and mostly felt relief because if they chose to continue we would have had a tangled mess for our booth. Howard and I can't get on a plane at any point this year. So Gen Con is canceled, our booth is rolled over into next year's Gen Con, the hotel reservations are canceled without penalty, and further information is coming about a virtual Gen Con event and virtual Gen Con Dealer's Hall. I do have some sadness about friends I won't get to see this year, but I've already emotionally processed a lot relating to Gen Con. This only leaves us with two more events in 2020 where decisions will need to be made. In November and December we'll start having decisions about 2021 to make.
My church just released instructions for how in-person meetings can resume. The instructions are in stages with clear instructions and diagrams. It is up to individual congregations to decide which steps they are ready to take. In the instructions is an acknowledgement that there will be some members who will need to continue holding services in their homes instead of in a congregation. That's us. Howard's negative antibody test and his breathing graphs mean that we won't be sending anyone from our house to any large group meetings any time soon. I discovered that the email announcement made me sad and afraid. My parents have been good about isolating, but if in-person church resumes they'll be tempted to go. I miss being in a congregation singing, but I've grown to love our family-only Sunday meetings and I would be very sad to lose them. Responsibility landing on local leaders means they have to make tough decisions and no matter what they decide someone will be angry with them. The local leaders will be under pressure both to open up and to stay closed. This is all so complicated with layers of community, social obligation, connection, loneliness, faith, fear, and a host of other factors physical, social, and emotional. I have a lot of emotion and not many answers.
For my household, we already have our status quo. We're not opening up any further than we already have. My son who works put his hours back to normal, but I'm picking him up from work rather than having him ride public transit. My daughter and her husband can visit, but no one else (who doesn't live here) comes into my house. Grocery shopping is limited to once per week. Shipping happens twice per week. Other than that, we stay home. This will be our normal for the next three months. August will bring a follow up doctor's appointment for Howard and school decisions for my 17 year old. I don't have to deal with those yet, but I know they are coming. Also coming are the decisions where people around me are comfortable meeting in person for things and I'll have to say no. At every step I'll wonder if we are over reacting or if I'm risking too much.
It's probably time to find something useful to do while all these emotions settle a bit.