I've been busy with shipping all week long. Shipping is a lot of physical labor and an overload of micro decisions. You can get a feel for the complexity of the process by reading one or more of the shipping updates that I post to the Kickstarter each Friday. We're now in week three of shipping. Usually by this time I would have moved from shipping unsketched orders into sketched ones, but the addition of slipcases has slowed down the packing process considerably. To add to the complexity, Howard has been livestreaming every sketch. This has actually been enjoyable both for Howard and for the small group of friends and fans who come to hang out with him while he works. I'm hoping that when the sketching is done, Howard can incorporate streaming into his regular creative process.
Today I didn't ship out any packages, focusing instead on running a few errands, managing some household tasks, assisting with the streaming, writing the Kickstarter shipping update, and prepping for family movie night. One of the wins for today was acquiring some chairs for our patio. I eventually want to have a patio set that is lovely to look at while being comfortable for lounging, but that sort of thing takes time to locate and a significant chunk of money to acquire. Instead I grabbed these.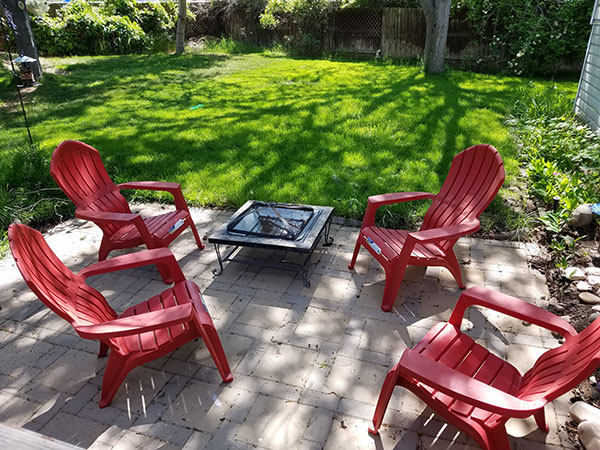 They are solid, plastic, stackable, sturdy, and comfortable for sitting. They solve the immediate problem of not having anywhere to sit and enjoy the patio that I spent most of last summer creating. The aesthetics of these chairs don't make my heart sing. I'm not sure I picked the right color, but they'll be nice to have anyway. And when I do manage to find the perfect patio set, these can be stacked out of the way to only be brought out when we have more guests than our perfect set has chairs to accommodate. It is a solid win, especially at just over $20 per chair.
Now we launch into a weekend where we'll get to see family in person for the first time in more than a year. After that, there is another week of shipping to do.