Last week our shipment of books finally arrived. This instantly plunged me into organization for book signing, sketching, and shipping. It has been more than two years since we did a big shipping. In that time there have been multiple updates to shipping software so I'm having to relearn how to integrate everything. I love that I no longer need to keep a file box of manually sorted pieces of paper. The software does a lot of the sorting for me. The learning is fairly straightforward, but it is occupying some creative time and space. On top of that, Howard wants to be able to live stream the book sketching, which is a great idea, but has also required a lot of rethinking our spaces. We ended up evicting the large sectional from the family room so we can set up the livestreaming spot. The sectional is dismantled and sitting in a pile in the garage. Once we're done with the sketching we can decide what is to be done with it, because in some ways it wasn't the best piece of furniture for how we actually use the room.
With all the shifting of boxes and shifting of furniture and learning new processes, May is more than halfway done. I'm hopeful that I can get the first glut of shipping complete and settle into a steady process for getting all of the other packages sent. Then I'll be able to reclaim my contemplative time and writing time.
One thing that is bringing me joy is that a pair of blue jays have nested in our yard. We haven't actually found the nest, but the jays are around all the time and they spend significant amounts of that time peering in our windows and yelling at our cats. They watch the people too, but they don't yell at the people. So we end up with chittering cats who are bird watching and yelling blue jays who are cat watching. Fun for everyone!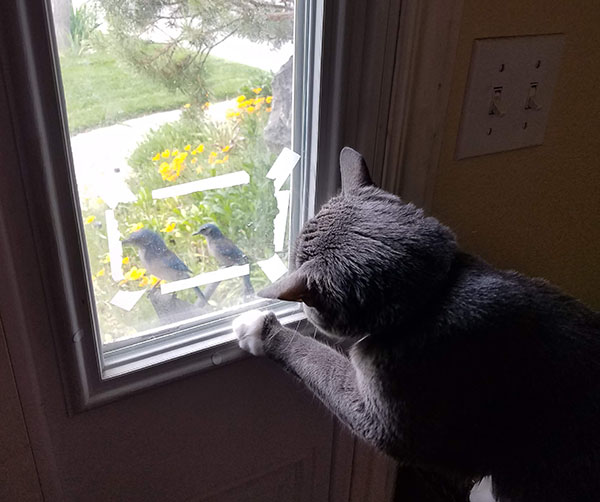 I need to clean my windows and get some better pictures.