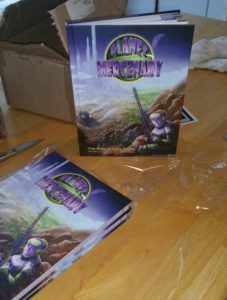 Howard Tweets:
Three copies of the @PlanetMercenary RPG book arrived just now. It's now officially a real thing.
The package was delivered while @SandraTayler was out running an errand. I opened it because I couldn't NOT open it. Then I took pictures.
When she got back, I said "there's a package for you on the counter." Her reaction, which I only saw from behind, was fascinating.
I can only describe it as "There is a giant spider poised to pounce, and I'm in range, and it's exactly the spider I always wanted."
So I guess I'm glad I did the box opening because her having that reaction while holding a knife would have been scary for me.
Howard's spider description was right on the nose. I was looking straight at the book for a moment before I realized what it was. We hadn't gotten a shipment notification, so I wasn't expecting them today. Then I froze and for a moment I was afraid to touch them, while simultaneously wanting to snatch it up and hug it. Because, what if it hurt me? What if I picked it up and found that there were huge errors that made the book unsellable and instead of being a triumph the whole thing was a massive failure? (Anxiety is not logical.) So it took an act of will to pick the book up. And to flip through the pages, but then I could breathe again. Because the books are beautiful both visually and to the touch.
I tweeted some replies to Howard's spider tweet:
This is almost exactly what it felt like from the inside.
Brain wouldn't parse and when it did I was almost afraid to touch the book, because what if it wasn't right?
But then it was right, so I cried a little bit. And I've been carrying around the book ever since.
I've done so many pit-of-despair moments over this book, pushed so hard, gave up so many other things, and now it is real.
The bulk shipment can't come fast enough. I want to send this out to the backers.
Naturally one of the first things we did was reach out to Alan Bahr and tell him to come get his copy. Until the bulk shipment arrives, we only have three. One for Howard, one for me, one for Alan. He came right over and we sat and talked for a couple of hours. Some was about the book we were finally getting to hold. Some was about GenCon coming soon. Some was about splatbooks and expansions that we'll want to put out for the game in the next couple of years. And some about other stuff. As Howard tweeted afterward:
I'm not sure whether or not @AlanBahr enjoys coming over to my house because each time he leaves he has at least three new games to write.
Me & Alan: Alan: "Ugh, now I'm going to have to write that." Me: "No, the point is that—" A: "Stop talking you're just making more work."
*Alan flees* Me: "Wait, there's more!" *Car won't start* Me: "Ahem." *waves distributor cap* Alan: "aaaaauuuughh" *dies*
Okay, those last two were comedic storytelling for effect, but Alan really does end up with more games to write. However I think that a trip to the grocery store might give Alan more games to write. His brain just works that way. Alan has been fantastic to work with. As were our artists, our graphic designer, and editors. It takes a lot of people to make a book like this.
I'm still carrying around the book and petting it occasionally. But as soon as I finish up this post, I need to find my focus and get back to work. There is still much to be done to bring this project to final completion.