I've been watching the Covid-19 numbers in my state pretty closely. At times it has felt like I was watching much more closely than my state leaders. They were being so very pleased about how the statewide numbers were going down while I was watching Utah County numbers hit new highs week after week. Until suddenly the Utah County numbers were high enough to drive up the statewide numbers. Which is how we land in this week. The governor moved Provo and Orem back to Orange alert level, and the Utah County Commissioners issued a mask mandate. Both steps toward quelling the increase in cases. But we still have to watch the spike play out for another two weeks before we can determine if enough has been done. For today, we hit another record high.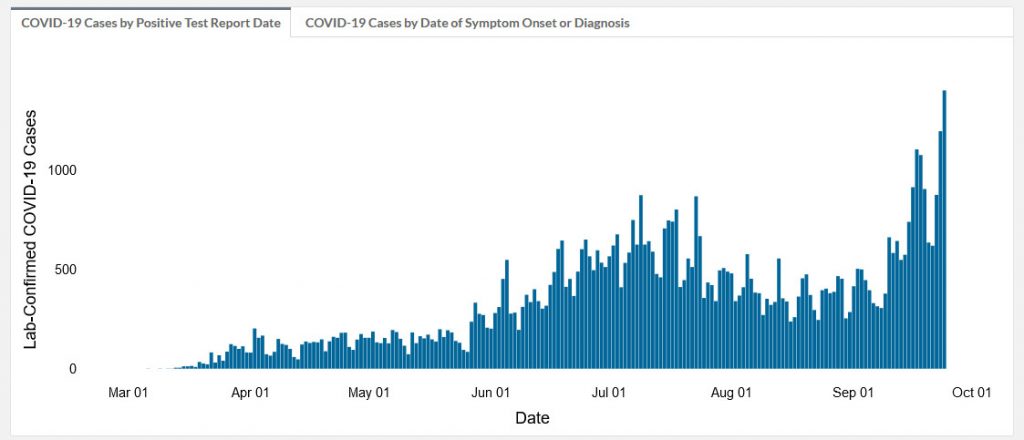 I would like for Orange status and more mask wearing to be sufficient. However I have concerns that this won't be the case because I watch the news articles as well as the numbers. In just the past two weeks there have been two news articles about high school events which attempted to circumvent restrictions. Provo high attempted to move their football game one town south so they could have spectators in the stands (not allowed under the new Orange restrictions) The move was blocked, but the fact that it was attempted shows a mis-comprehension or denial of the need for restrictions.

Then a cheerleading fundraiser was run in opposition to guidelines one day after the school was shut down for two weeks because of a case spike. The spike was in part because of exposures in the cheerleading squad.

These two events are certainly not the only ones. The hard part is that I don't think any of the people involved meant to do harm. Yet when a planned event collides with a pandemic restriction, it can be hugely difficult for the people involved in that event to change to meet the restriction. Any time an organizer changes an event, even when they are legally obligated to, they will have people angry at them. Also people become coaches or teachers because they want to provide opportunities for kids. It is very hard to ask them to disappoint those kids, hence the desire to somehow still deliver something, often a something that skirts the restrictions. The (admirable) desire to provide opportunities for kids is going to drive infection rates up as long as extra-curricular activities are allowed to meet in person.
Let's go back to that "people will get mad" piece, because we have actual lawsuits where college students are suing their schools because of sub-par educational offerings. I saw a similar article a month ago featuring a different student and school.

I'm not sure what the student hopes to achieve. A refund maybe? Because I know that the school and teachers have delivered the best they possibly could under bad circumstances. I think the best response from the school would be a full tuition refund accompanied by revoking the credits the student earned during the semester. Unfortunately I don't think that is a solution that universities can afford to apply often. In fact the economics of universities already mean that they lose money when students aren't on campus. Having lawsuits just increases the financial pressure to bring students back to campus, and college students are a proven driver of infection.
So are prisons, and Utah has a problem there too.

Public health officials are trying to get the message out.

After all, when SLC issued a mask mandate in July, cases started declining. This leads officials to be hopeful that people wearing masks is all that is needed. Perhaps it was when kids weren't in school, but now they are. And every day little Betsy sees her friend in class and begs for a play date. There are only so many times that Mom will say no before beginning to rationalize that they're together at school anyway…
The thing is, Utah cases started to decline exactly when cases started declining nationwide. But right now cases are on the rise nationwide.

And the CDC thinks that 90% of the US population is still susceptible.

And locally, people are wrestling with whether to open things back up or shut them down. We've got some school districts returning to in person while others are going hybrid or going fully online.

There is no cohesive strategy for the state. And that is a problem because infection does not pay attention to county lines or district boundaries. A spike in cases leaks outward in unpredictable ways. Also as much as I believe it is important to prioritize lives over money, my state leaders tend to lean toward making sure the economy is healthy. They respond to economic decline by loosening restrictions, and now the jobs reports are saying that Utah unemployment is headed up.

I'm not surprised about that news either, because I notice my own behavior. As case counts rise, I begin mentally and emotionally hunkering down. I go fewer places and I spend less money. If others respond as I do, then high case counts will drive up unemployment even without government restrictions. This conclusion is supported in an analysis done by Chicago Booth Review. Though I argue that framing it as fear instead of public health awareness is a bit biased.
There are so many pressures on so many people from so many angles. I will be surprised if all we need is Orange status and a mask mandate. I think those can slow the spike, but not turn it around. We really need to turn it around before Halloween tempts people to trick or treat and Thanksgiving tempts families to gather for dinner.
9/27/2020 Edited to add: Saw an article about outbreaks at homeless shelters. Today's numbers were steady with Saturday numbers when Sunday usually has a drop. If Monday stays steady too, we're aimed for yet another new high. And I'm afraid that any gain made by the mask mandate and Orange restrictions will be offset by the fact that local LDS congregations are moving back to meeting weekly in a single session instead of once per month in two sessions. Meetings will be streamed for those who stay at home, but that still puts a group of people together every week on a schedule perfectly timed for transmission. Nope, mask mandate isn't going to be enough.